Student at Novicell
Get a preview of the life after your studies and strengthen your qualifications with practical experience that goes beyond your textbooks.
See vacant student positions
Your opportunities as a student in Novicell
Internship

Every semester, we offer internships within the different business areas in Novicell. The number of internships depends on which projects we are working on. Together with you, we will tailor your internship based on your interests, education, and qualifications.

Student Job

As a student worker, you get the opportunity to turn theory into practice and work on real cases for some of the largest brands in Denmark. You will get the opportunity to develop your qualifications and explore your interests.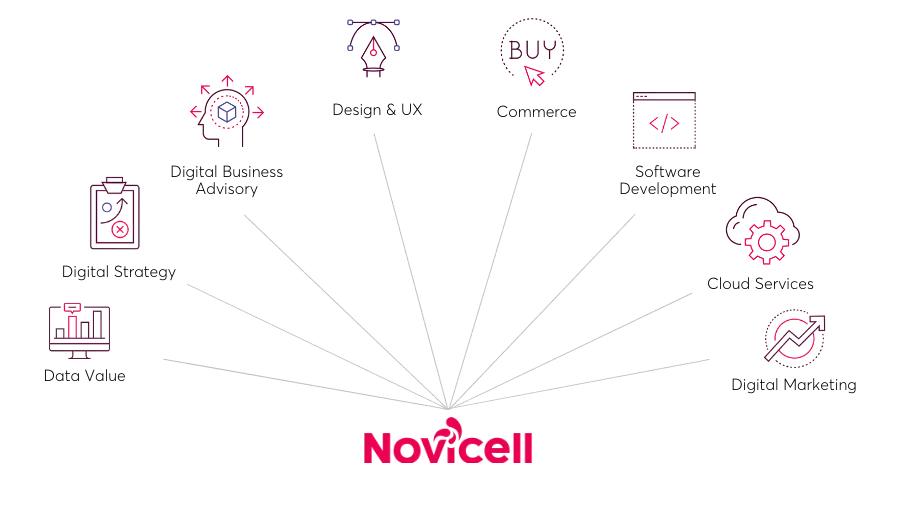 A good place to grow
A Wide Range of Opportunities
In Novicell, you have great opportunities to develop your interests as we have a wide range of competences within our field. It means that we have many different specialists who you can learn from. If you do not end up in the right place from the beginning, there is always lots of opportunities to try out other areas in Novicell. 
"From day 1, I felt welcome at the office and despite being 'new' to the industry, I was quickly shown the ropes. I was continuously given interesting tasks and responsibility for my own project which I got to present for relevant clients"  
"As long as you are motivated and open about your interests, Novicell will create the environment where you can develop - both professionally and personally. I have never for a second regretted becoming a part of Novicell"
"As an intern in Novicell, you will get the opportunity to define the tasks that you wish to develop. You will also get a lot of feedback from the Senior Developers. You will never be left in the lurch, you can always get help"
More than just a student job
Some of the advantages of being a student in Novicell
Client Projects

You will work with real cases for real clients and will be part of a team on equal terms with your colleagues.

Feedback and Guidance

We put great emphasis on your development. Therefore, we believe that responsibility goes hand in hand with feedback and guidance.

Junior Events

We continuously arrange social junior events to create a sense of community between our students across the different departments.

Junior Position

We call our students and interns Junior Consultant and Junior Developer. We do that to empathise the value of your work - both internally and externally.

Flexible working environment

Your studies come first. Therefore, we are very flexible with your working time, working remotely, and adjusting your working hours depending on your schedule.

Bachelor's and Master's thesis collaboration

We see great value in collaborating with our students on their bachelor's and master's thesis and internship assignment. We gladly share data and projects if possible.
Do you want to know more about the opportunities for you as a student in Novicell?