GreenDozer
An e-commerce platform that sells brand new and used surplus goods
It is a win-win situation to purchase through GreenDozer.com as both the buyer and the seller contribute to sustainability in Denmark. GreenDozer.com helps reduce waste of new products and contributes to achieving UN Sustainable Development Goal number 12, Responsible Consumption and Production. UN Sustainable Development Goal number 12 includes important objectives such as using our shared natural resources responsibly and encouraging industries, businesses, and consumers to recycle and reduce their waste.
Turning the business idea into reality
The 400 largest Danish companies in the construction industry have a combined inventory worth more than 14 billion Danish kroner, and due to various reasons, it is inevitable that there is excess stock. Every year, millions of kroner worth of brand new construction materials are discarded. It's not just the value of the goods that is lost, but also all the resources used in their production and transportation, including raw materials, electricity, water, heat, fuel, and labor, which leave a harmful impact on the environment.
GreenDozer.com assists these companies in selling their surplus goods instead of them ending up as waste. GreenDozer.com collaborates with a wide range of wholesalers, DIY stores, and manufacturers, and the presence of many companies makes the supply of goods attractive to buyers. The idea is to combine a sustainable business with a profitable one, with the digital platform serving as the glue that brings it all together.
GreenDozer.com is an e-commerce platform that allows selling companies, including wholesalers, DIY stores, and construction industry manufacturers, to use it as an additional sales channel to market and sell their surplus goods. The surplus goods are automatically transferred through an API, and orders are also automatically processed through the API. This requires minimal resources from the sellers, and the goods are not reserved exclusively for GreenDozer.com but can still be sold in the usual manner to the sellers' regular customers. The buyers on GreenDozer.com can be businesses, public institutions, and individuals alike.
For search and recommendations, we use Algolia. It is not only fast, but as the amount of traffic and orders increases, the relevance and accuracy of the recommendations will also grow.
Everything is hosted on AWS (Amazon), where we utilize a new fully serverless and managed hosting concept + architecture that scales and self-heals automatically. The architecture allows us to build and deploy within seconds without causing any downtime, and we can easily create new environments.
GreenDozer uses Google Tag Manager on the server-side. This means that we only set a single first-party cookie for tracking, which then sends tracking data to our own server, enabling us to control what we share with Google, Facebook, etc. This is not only beneficial for website performance but also for GDPR compliance and data ownership. The new tracking setup is immune to ad-blockers and allows us to legally track actions on the website, even when cookies are rejected. The purpose of the new tracking setup is to track 100% of the actions + traffic occurring on the solution.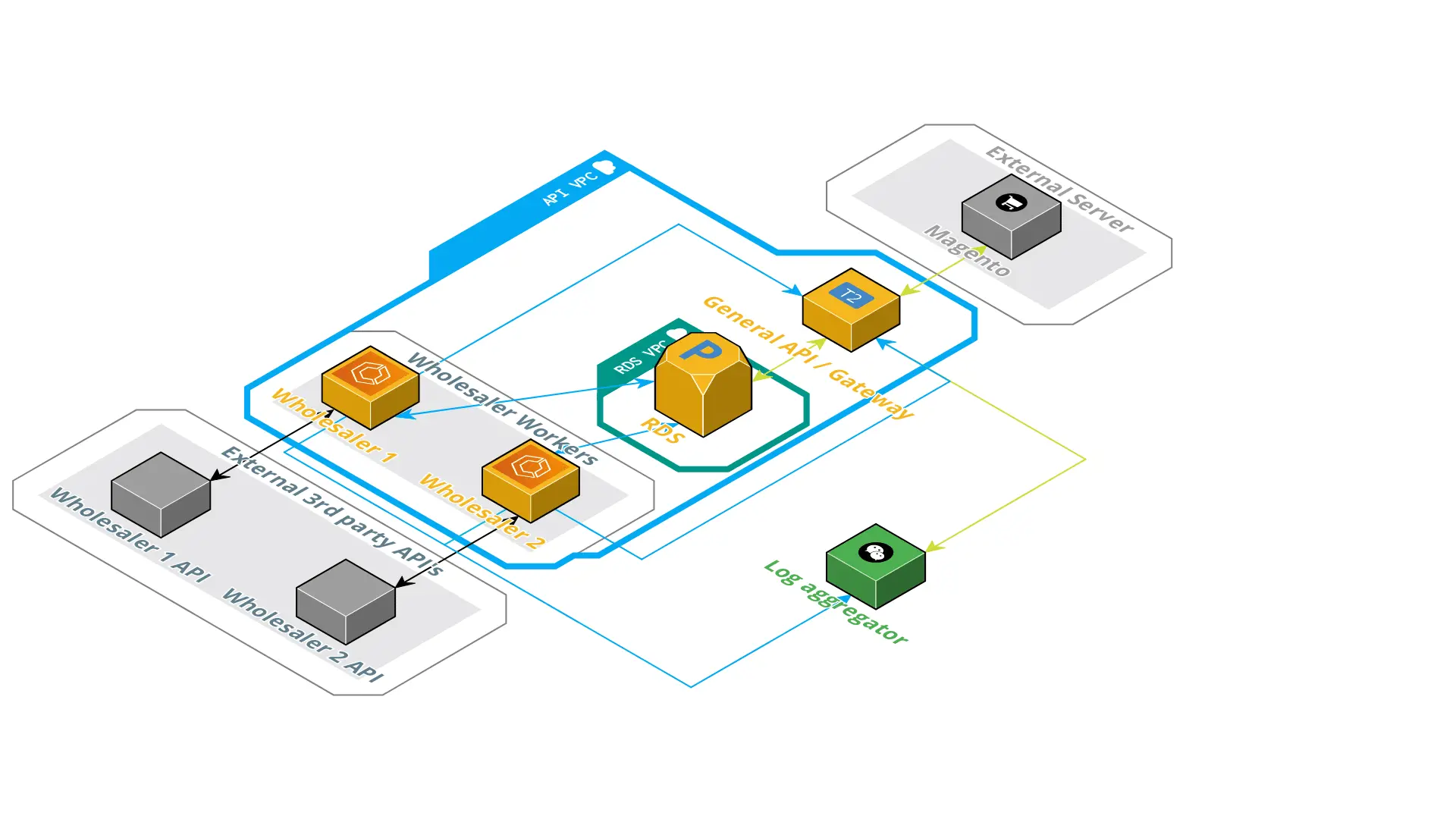 We are very satisfied with the collaboration with Novicell. They manage to deliver on the agreements we have, and they are easy to work with. They have significantly improved our Magento solution, and the entire purchasing flow now runs through fully automated APIs.
GreenDozer.com uses Magento
GreenDozer's webshop is built on a Magento platform, specifically Magento 1. Magento is known for being highly suitable for enterprise e-commerce solutions that require a high level of customization and scalability to accommodate significant growth. Magento was a natural choice for GreenDozer as their webshop is far from an "in-a-box" solution - they do not stock the products themselves but rather pull all the products from sellers' own systems. It's worth noting that Magento is open source. This means that GreenDozer doesn't pay for licenses but only for the development time of the solution itself.
Magento
Want to know more?