Kamstrup
Sitecore solution with different customer universes - Customers now find the desired product far more quickly.
Kamstrup - Intelligent Metering Solutions
There are not many Danes who have never come across a product from Kamstrup. Most of us may not think much about it, but when it comes to reading meters for water, heat, and electricity, there is a high probability that the name Kamstrup is on the measuring equipment. Kamstrup is one of the success stories from Aarhus and is today a company with a billion-dollar turnover, dominating the measurement of electricity, water, and heat. Always striving to find a better solution.
Olaf Kamstrup's visions not only benefit Danish water and energy consumers today. The idea that each individual consumer should be able to have full confidence in the readings provided by the electricity, water, and heat meters has gained significant popularity beyond the country's borders. Kamstrup now has employees in more than 20 countries worldwide. The vision is to become the world's leading provider of intelligent metering solutions for energy and water consumption. This is to be achieved, among other things, through a deep understanding of customers, which increasingly begins and continues on Kamstrup.com. Transforming Kamstrup.com into a natural platform for customers to engage more in doing business with Kamstrup was precisely what Novicell was asked to assist with.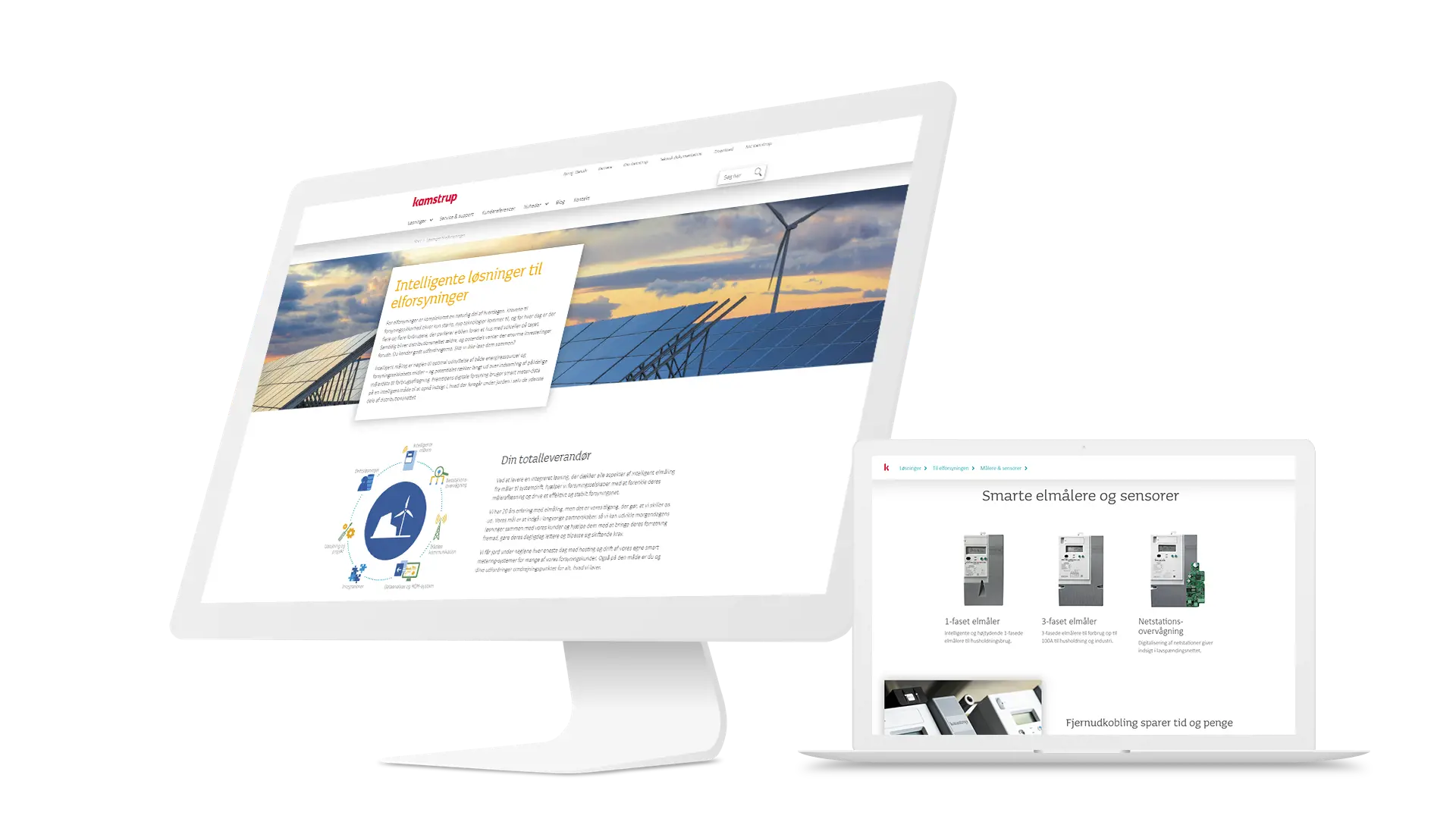 Customers from around the world are supposed to find relevant content
Visitors to Kamstrup.com are customers from various parts of the world. They are looking for heat meters, water meters, electricity meters, and a wide range of other products from Kamstrup. Therefore, there is a significant risk that a lack of structure on the website could contribute to the user losing track. This has been resolved by dividing the site into different universes, allowing water supply companies to quickly find relevant products and information specifically tailored to them, and likewise for other types of utility companies. Novicell approached the task as a turnkey project, thoroughly reviewing and refining all the content on the website. Long texts were made shorter, sharper, and more concise.
Work has also been done on the site's design and user experience (UX), making it so intuitive to navigate that it entices the user to read more about products that are of great interest to them. Only when the user reads the longer descriptions, a pop-up menu will offer newsletters. This has resulted in more newsletter subscriptions compared to before, when the pop-up menus appeared at the beginning of the reading, often at a time when the user was still searching for the desired text and thus not being offered the right newsletter.
On Kamstrup.com, searches can be performed in 15 different languages. Previously, too many searches yielded no results, causing many users to give up. The digital solution, which was supposed to be helpful and advantageous for both the customer and Kamstrup, caused too many users to lose track. With the new solution, the number of searches where the customer receives a "zero match" has been more than halved.
We were looking for a digital consulting firm that was technically skilled and could serve as a strategic partner. They needed to be able to enhance our digital customer-facing solutions. That's exactly what we found with Novicell.
With Novicell, we have a partner who strategically and business-wise works with us from the conception of our ideas to the implementation phase. They continuously contribute with ideas for changes and improvements.

Want to know more?