Knowledge Center for Digital Commerce
E-learning universe for all commercial vocational schools in the country — Knowledge for tomorrow's digital specialists
The collaboration consisted of
Kick-off workshop

Mapping of target audience, style, tone, language, and didactics.

Copywriting

Expert knowledge translated into easily understandable and inspiring teaching materials.

Simulation exercises

Testing students' learning and ability to solve specific tasks for fictional companies.

Video production

Scriptwriting, recording, screencasts, and video editing for all tools.
Novicell has been excellent at listening to and understanding the task and, especially, the target audience that the Knowledge Center for Digital Commerce faced in finding a solution. The entire process has been executed with precision: from the workshop's exploration phase to scriptwriting with internal review cycles, leading to the final production of text and video. The solution has been equally impressive.
And when you receive as much praise as we have from both educators and students in the target group, it's a testament to your capabilities. Well done!
The right content in the right formats - on the audience's terms
Expert knowledge translated into easily understandable, visually appealing, and hands-on digital teaching materials. That's the recipe for success when it comes to educating young students in digital marketing - digitally.
At Novicell, we have experts in all digital disciplines. Therefore, the partnership with the Knowledge Center for Digital Commerce was nothing short of a perfect match - and the strong connection between digital expertise, content best practices, effective digital communication, audience focus, and creative formats formed the foundation for the development of high-quality teaching materials.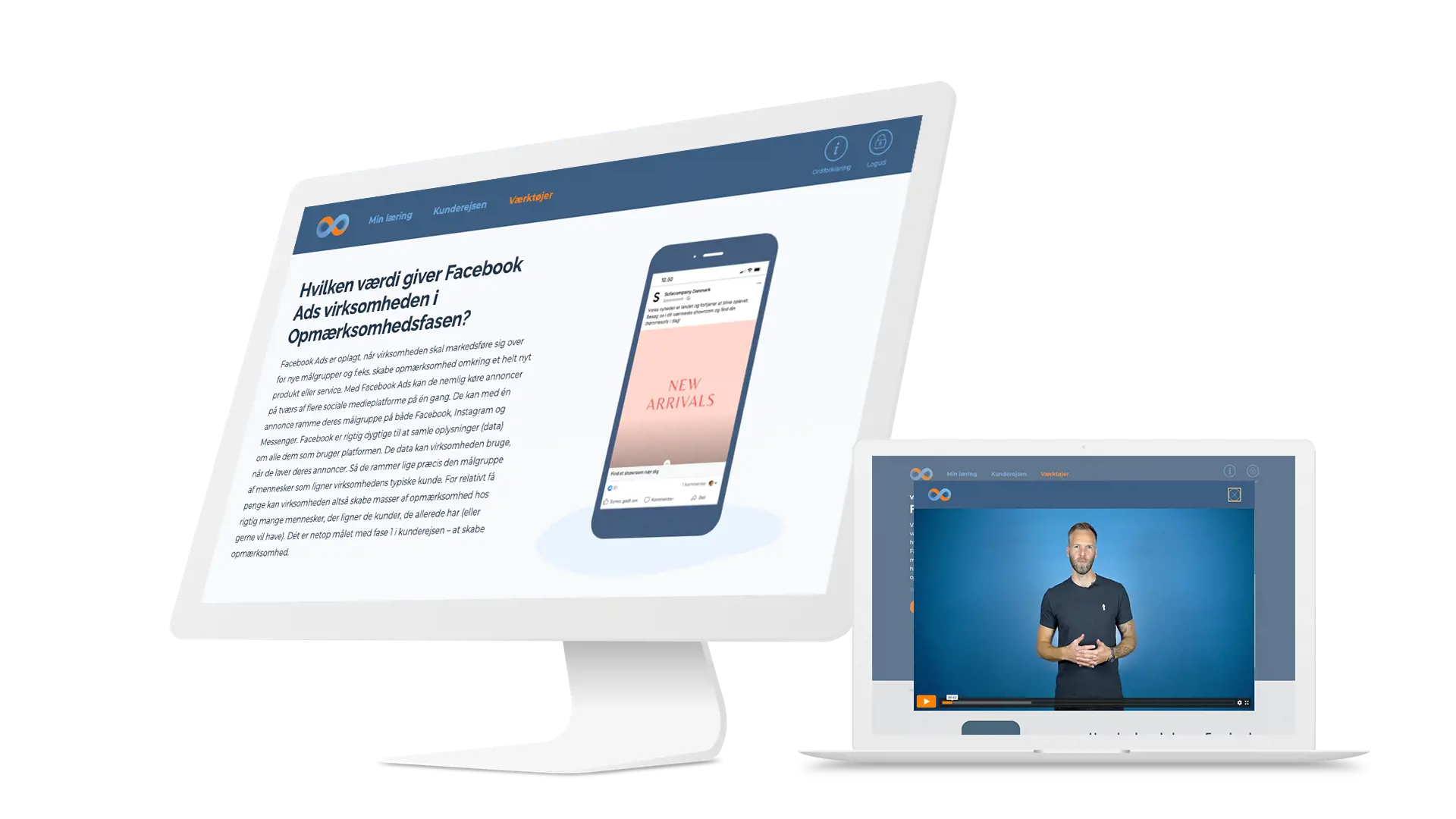 In each simulation exercise, students are tasked with solving a task for a fictional company and are assessed based on their performance. They can, for example:
Set up a segmented newsletter for Pers Pear Production to ensure their loyal customers keep coming back.
Create a Facebook campaign that reaches the right target audience for React Sports' new product launch.
Execute a correct product setup in an online store that sells lamps.
Students go through all the necessary steps to complete the task, and at the end, they receive thorough feedback on their performance.
Show it - don't tell it
Reading about digital tools is one thing, but seeing them in action is a whole different experience. When you can follow the mouse moving on the screen and witness the many features presented exactly as they appear in real life, it enhances both the desire to learn and the chance of retaining the knowledge.
Welcome videos
As the first element on all learning pages, students are greeted with a welcome video. A consistent narrator welcomes them and briefly introduces the digital tool, including an example of a concrete brand successfully using the tool. The narrator appears in all videos, taking on the role of the students' instructor—a familiar figure guiding them through the entire learning universe.
"Are you ready? Let's get started!"
Instructional videos
Facebook Ads, Google Ads, MailChimp, Hotjar, Woomio... These are all complex tools that require years of experience to master. So, how does one convey the essence of such a tool in just 10 minutes? With meticulous preparation, scripts written by true experts, a convincing narrator, screen recordings, and graphics... Well, that's when we're getting close.
Below you can find an example of the instructional video on Google Ads. You don't need to watch all 9 minutes :-)
Teacher

I am absolutely thrilled with EcomTrainer and will undoubtedly use it in its entirety or incorporate elements from it - thank you thank you thank you!

Student

EcomTrainer is awesome! It provides a great insight into working with various platforms.

Teacher

It is excellently crafted and it further ignites my passion for working with the subject matter - thank you so much.

Student

It's really clever and fun to try out. Awesome tool! It makes you want to use it and sparks interest.
Graphic elements draw and tell.
In addition to informative texts, inspiring welcome videos, thorough instructional videos, and educational simulation exercises, each digital tool was enhanced with a graphic element to support the overall expression. The graphics are also consistent throughout the videos, further unifying the universe.