Sweetdeal
Sweetdeal can now present more relevant deals to different types of customers
Sweetdeal
Sweetdeal.dk - also known as Denmark's largest deal portal - is an e-commerce platform where the focus is on offering customers the best deals at advantageous prices. Their business is based on understanding what their customers dream of and having relevant and beneficial deals and offers ready on the website. With over 1,000,000 visitors each month on Sweetdeal.dk, 800,000 newsletter subscribers, 25,000,000 monthly email distributions, and consequently, an enormous permission base, Sweetdeal generates massive amounts of clicks and traffic across their systems. This necessitates the right tool to dive in, process the data, and showcase valuable connections and analyses.
More focus on deeper data insights and better customer experiences
A deal typically has a lifespan of 2-3 weeks, and therefore, Sweetdeal.dk sought measures to more effectively target their campaigns to relevant customer segments based on insights from their data. They wanted to make deals more value-creating for their customer database in order to promote better customer experiences and, naturally, grow their business. It was crucial that customer data from different systems and channels be consolidated into a single tool, which would then become the new "single point of view." Additionally, the tool needed to serve multiple functions within the company, allowing the data to be utilized across departments.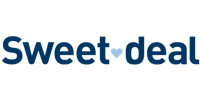 It has been a positive experience working with Novicell. They were quick to understand our needs and provided exciting input on what could be valuable to fulfill our desires. It has been a very insightful collaboration because there has been so much data to work with.

Sweetdeal makes decisions based on a digital and automated performance overview
In the solution, historical data and daily transaction data are gathered in an SQL database, from which reports and analyses are generated and displayed in a Power BI-based dashboard, providing insights in one consolidated view. Sweetdeal's 19.95 GB of data from various systems and channels were collected, allowing them to monitor their efforts across systems and channels and adjust their strategies accordingly. With just a few clicks, Sweetdeal can now stay ahead and sell more targeted deals to their customers.
During the collaboration between Novicell and Sweetdeal, the most important report pages were defined. A selection of the 7 report pages is shown here:
Once the dashboard is up and running, it is crucial for the organization to allocate resources to review the reports and leverage them to optimize the business. The goal is for the dashboard solution to significantly enhance Sweetdeal's business as they learn to examine the reports and translate them into adjustments in deals and marketing efforts.
Want to know more?