Shopify and B2B
Shopify's relationship with B2B has been disconnected in past. D2C merchants could install a 3rd party app "Wholesales channel". The app was built by Shopify and enabled merchants to offer wholesale buyers a few options, such as:
Provide a separate, invite-only storefront accessibly only by wholesale buyers.
Customer specific discounts & volume pricing.
Wholesale order management.
However, the experience from the wholesale channel was not satisfactory, as the separate website came with minimal customization options and it was not possible to expand the site's existing functionalities as a frontend or backend. Compared to the normal D2C website, it was a flawed experience.
As a result, many apps have been built over the years that attempt to offer B2B functionality on top of any existing D2C shop. Some app developers have been more successful than others, but most face similar plan limitations when it comes to implementing B2B functionality like:
Company specific pricing
Volume pricing
Volume rules
Company specific products
Invoice payments with multi currency
It is difficult to implement such features without a big change in the theme. The changes risk breaking normal functionality for D2C customers. Some apps offer their own basket, catalog, search options, and other features to overcome various limitations, and one might wonder if another platform might be better suited for B2B.
B2B meets D2C
As online B2B growth is expected to reach 80% by 2025 (Gartner), Shopify is poised to re-enter the B2B market with a stronger in-house offering. It seems that the lack of customer experience provided by the "Wholesales channel" has also been a driving force. Shopify's own research shows that B2B customers have changed a lot over the past few years, and the younger demographic is pushing for a more seamless shopping experience. In Shopify's "Summer 2022" edition, Shopify debuted "Shopify B2B" – a set of features released to Shopify PLUS customers. In addition, these features will be available in their existing D2C stores, enabling retailers to provide their B2B buyers with great D2C experiences.
Shopify B2B in 2022
Shopify B2B will release in 2022 with a number of key features
Salespeople could create businesses in their Shopify stores, control payment options, assign existing or new customers as account contacts with roles.
Sellers could make price lists and assign them to companies.
Net payment terms (30, 60, 90, custom) or online payment for selected companies.
Enabling B2B features in an existing store or using an extension store.
Integrations to other Shopify checkout features such as discounts, checkout, scripts, apps, etc.
As usual, new APIs were also released that allowed Shopify Partners to sync this information from the vendor's ERP system(s) to Shopify automatically.
But most notably, a B2B buyer's shopping experience will be similar to that of a regular customer.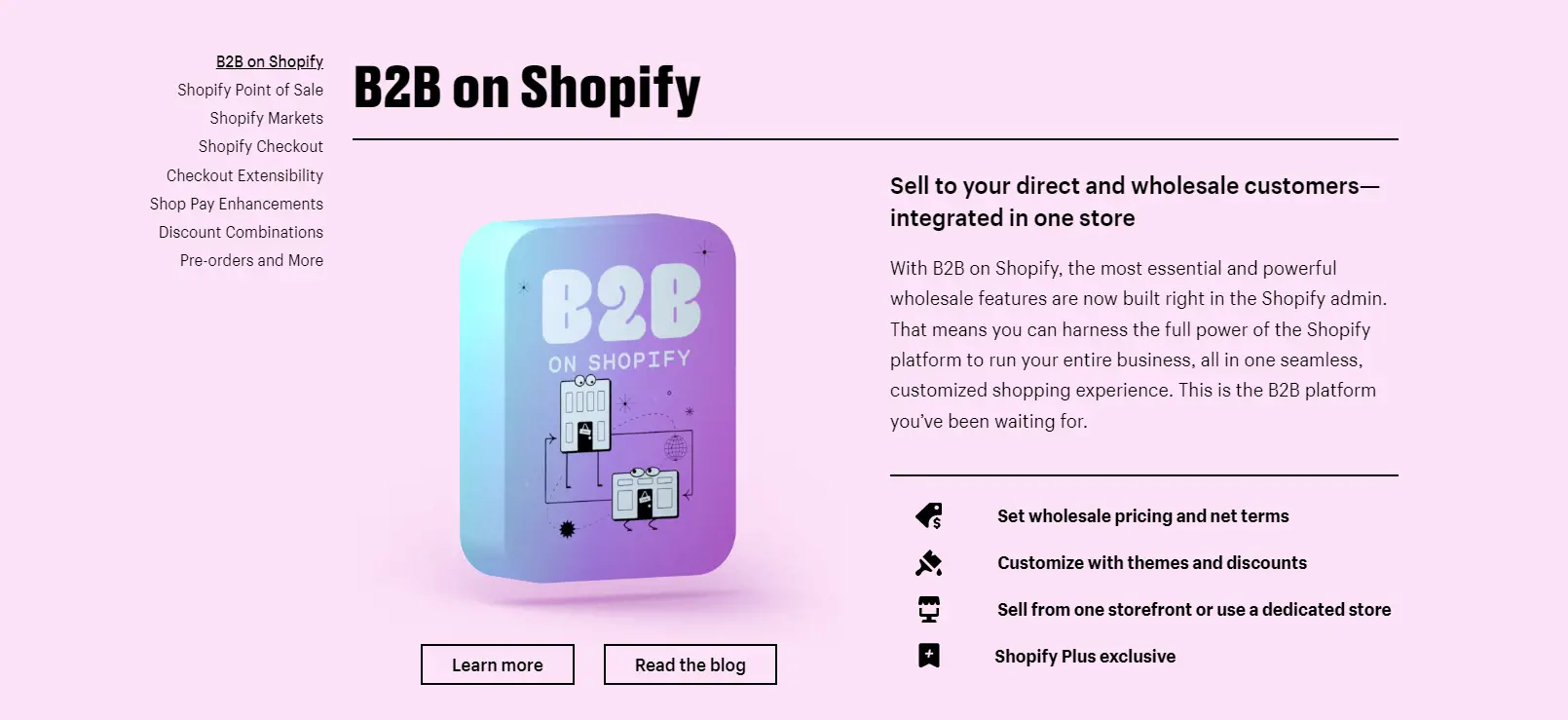 Shopify Editions: Connect to Consumer (Summer '22) - Shopify Canada
Update in 2023
New B2B features were announced in the Winter 2023 release and several of the features have already been released. Shopify is expected to achieve feature parity with other platforms by the end of the year. Some notable features are:
Store custom data about companies through metafields.
Easy reordering from a new "self service" portal.
Checkout to draft. This makes it possible to review orders for specific companies.
Other features under development:
Customer-specific product release
Volume based pricing
Rules of packages such as piece, package, pallet
Payment reminders
Sales representative use cases (Impersonation)
The new APIs also enable partners to automate tasks related to the new functionality above. This could be, for example, synchronization of data or streamlining of business processes.
Learn more