A Customer Relationship Management (CRM) system is specially designed to make your life easier. This is the case for many HubSpot CRM users who report that their sales and service teams love  HubSpot's free CRM for this very reason.  
Do you feel like you're only tapping into a small percentage of HubSpot's capabilities? Are you looking for ways to better utilise the HubSpot CRM? 
If so, you're in the right place. As a Platinum HubSpot Solutions Partner, we've had several years of experience both with using the HubSpot CRM and onboarding our clients onto the HubSpot CRM Suite.  
In this blog post, we'll run through our top tips and tricks to help ensure that you are getting the most out of your HubSpot CRM. 
Clean up your HubSpot CRM database on a regular basis  
As you begin using the HubSpot CRM and entering all your business information into the system, it's very important to have the most accurate data available. However, contacts that have bounced, marked you as spam or unsubscribed are no longer a part of your marketing efforts, so do not include them in your system. By removing these contacts from your HubSpot CRM, you will help clean up your database and improve email deliverability, reporting, and domain reputation. Additionally, you won't have to pay for additional contacts since you are not yet enrolled on the  Marketing Contacts  plan. 
Maintaining good data in your CRM is a vital component of data hygiene best practices. 
Document your lead management process  
It's important for both your sales and marketing teams to get behind the same goals and understand how to structure your messaging at every stage of the buyer's journey. Rather than having marketing impose or dictate sales enablement tools and materials, these should be developed and refined collaboratively by both teams. One way to achieve sales and marketing alignment is by documenting your lead management process.  
A documented lead management process identifies the following: 
Sources of leads and lead generation strategy 
Marketing process and activities required to get a marketing lead ready for sales (lead nurture campaigns and lead scoring) 
Sales process and activities required to close a sales-ready lead  
Lead qualification and segmentation rule 
Marketing to sales hand-off points and hand-back points 
Lead routing  
Reporting requirements to achieve the above  
Use the workflow tool to automate as much of your operations as possible 
How many times have you seen a lead sitting in the wrong disposition? Maybe, you just deployed a new process, and your sales reps are simply not following. 
Remember, salespeople, are talking to multiple prospects, handling objections, and managing their pipeline every single day. The easier you can make their entire process of dispositions, the fewer mistakes your sales managers will encounter from the team. 
One of the best ways to ensure quality control of sales data is to build out a lot of workflows that automate a bunch of redundant tasks inside HubSpot CRM for your sales team. 
Here are our top five workflows that'll help your sales team:
Change company and lead status based on deal stages – Sometimes when your reps are working on the deals view it is redundant to update lead stages and company lead stages manually. The best way to automate that is to create a HubSpot workflow that uses a new deal stage change as a trigger 


Auto-assign leads to certain teams inside HubSpot – Based on various logics you can trigger workflows to auto-assign leads to certain teams inside HubSpot CRM whenever a new lead comes in 


Move inactive leads outside a rep's queue – Use the inactivity trigger to move a lead outside the queue of the sales rep 


Set the lead status field of all new leads to 'open'- Lead status is indicative of where your sales team is in the process of qualifying a lead into an opportunity and is left blank by default. You can create custom status options to assist with daily workflows with tasks such as new leads outreach, in-progress leads follow-up, or assigning leads back to marketing for further nurturing  
Set the lead status field of contacted leads to 'in progress' - Create a workflow that will automatically change lead status from blank, open, or new to 'in Progress' as soon as activity from your team is logged. Activities triggering the workflow could be an e-mail, call, meeting, or notes containing updates 


Automatically assign leads - You can also create a workflow that will automatically assign incoming leads to one of your sales reps based on certain parameters. This ensures no lead is left behind and that leads are touched within a reasonable amount of time, if not right away. If you have a round-robin approach for lead designation, you can set the workflow to work based on that rule and distribute leads to different sales reps.
Here is an example of a lead nurturing workflow: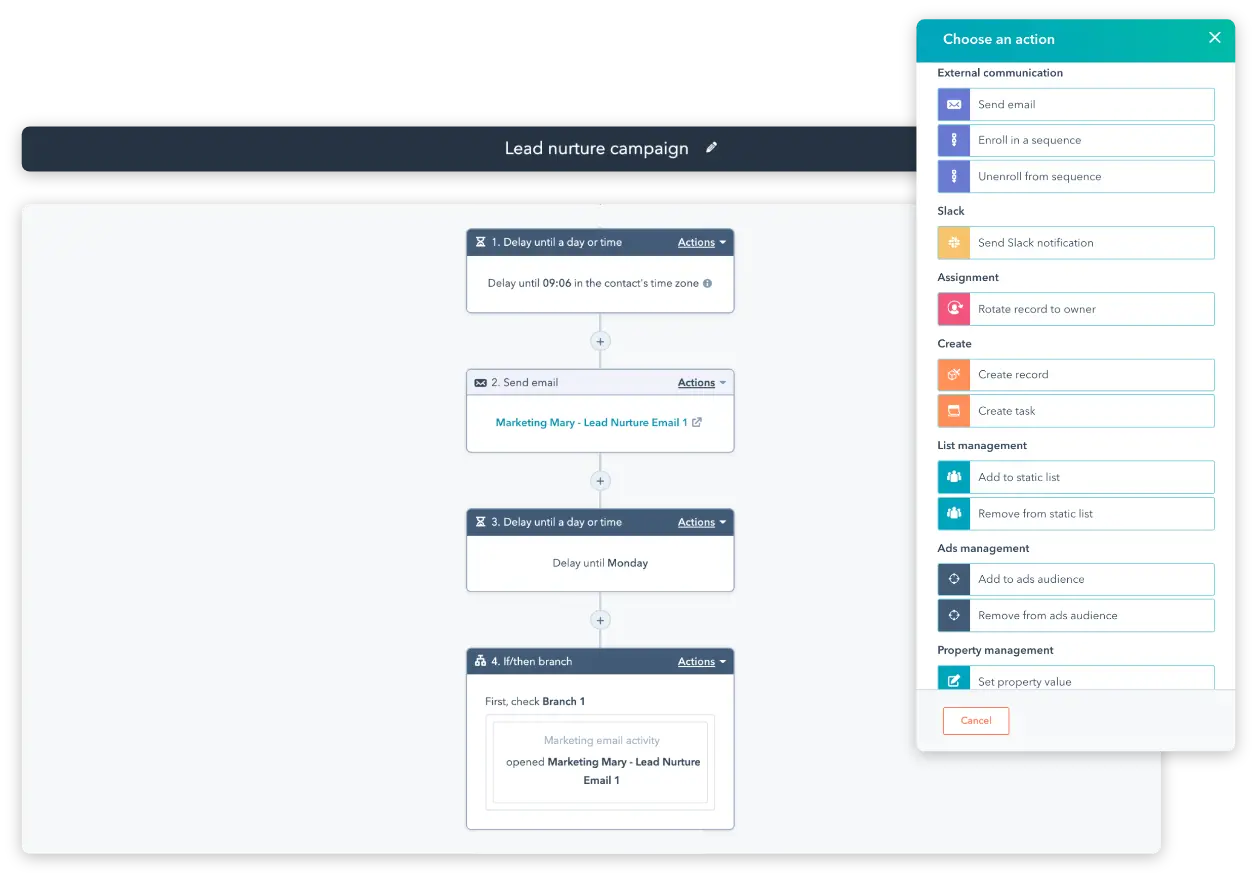 Reach out to prospects at the right time  
Reaching out to prospects at the right time is an integral part of the inbound methodology.  
One way to do this is by using the e-mail extension tool in HubSpot. This tool allows you to connect your Gmail or Outlook e-mail account to the CRM  in order to track e-mails, provide notifications and updates, and link contact information from your e-mail to the CRM for more complete records. Additionally, the tool allows for scheduled sending of e-mails which is invaluable to obtaining the best open rates. Finally, it can be set up to notify you of e-mail openings which then lets you gauge interest and follow up with a call. 
Another way to achieve this is through a lead scoring model. Lead scoring is a powerful tool to help you identify 'hot leads' based on their interaction with your company
Create a 'closed lost' nurturing strategy 
In a perfect world, leads would flow continuously through the sales funnel, always moving closer to the inevitable closing of the deal. The reality is, you simply can't win every deal in the pipeline. But just because some leads don't close when you want them to doesn't mean they're unattainable.  
Having a nurturing strategy in place for 'Closed Lost' leads is vital. After all, these leads have previously shown interest in your offerings and have gone through the qualification process and selling phase. With a smart strategy in place, closed lost can become closed-won over time.  
Here's how:  
Use a drop-down field for your closed lost reasons and make it a required field for when deals are moved into closed lost – By default, the closed lost reasons in your HubSpot portal will be a free-text field. Our recommendation would be to change this to a drop-down select field. Doing this will standardise your closed lost reasons and limit your sales team to meaningful closed lost reasons for you to act on. In addition, we'd also recommend making the closed lost field mandatory in the closed lost deal. Whilst every business and their sales process is different, below is a list of the most common closed lost reasons and their descriptions.

2. Ask for feedback - If you want to reinvigorate your relationship with these closed lost leads, you must understand what caused them to turn away in the first place. Use this information to your advantage 
3. Look for trends – Analyse the feedback you've received and see if you can spot some recurring themes. Are your closed lost leads expressing similar complaints or frustrations? Common factors that reveal themselves in this step are usually pretty telling signs of possible leaks in your funnel

Once you've attained the above information, here's what you can do with it: 


Modify your sales strategy - Are you losing opportunities because of competition? If so, it may be time to rethink the way you sell and how you position your brand and offerings. This may manifest in different forms and may require other departments to contribute their efforts (such as R&D and marketing) to effectively shift product perception 


Recycle lead back to marketing – Identify all close lost leads that are a good fit for your offering and put them on a 'recycle to marketing lead nurture' workflow to keep your company top of mind 


Invest in sales training - If you're getting a lot of closed lost reasons along the lines of 'unresponsive', your reps may be struggling to engage with prospects. If that's the case, managers can step in and restructure their training efforts. Reasons like 'timing' or 'poor qualification' also suggests that there's a need to train your team members at the sales frontline. 
Make it easier for visitors to engage with you 
In today's time, it's all about making it as easy as possible for your leads and prospects to engage with you. The HubSpot platform has evolved over the years and is now more customer-centric than ever. Leverage this to your advantage by: 
Installing live chat (or a chatbot) on your website  
Configuring your meetings tool  
Install live chat (or a chatbot) on your website
Don't make your leads jump through hoops to get access to the information they're seeking. HubSpot offers free live chat software that syncs data back to the CRM. With this live chat feature, every conversation is automatically stored on a contact's timeline.  
This tool enables you to:  
Chat with leads, prospects, and customers in real-time. 
Route the conversation to the designated teams and/or team members 
Utilise chatbots to qualify leads, book meetings, provide answers to common customer support questions, and more 
Keep the relationship warm every step of the way by engaging in contextual conversations 
Schedule follow-up tasks, take notes, send e-mails, make calls, create support tickets, and more — right from the inbox 
Turn the chatbot on during designated office hours and capture e-mail addresses for follow-ups on any chat requests you missed 
Configure your meetings tool
An invaluable and often overlooked feature of the HubSpot CRM package is the meeting link tool. This is one of the first steps of our HubSpot onboarding process, where HubSpot clients are shown how to connect their calendar to HubSpot in order to set up a meeting link. This way, they can quickly schedule calls with their prospects without the back-and-forth conversation about availability.   
Learn how to connect your calendar to HubSpot so that HubSpot knows when you can and cannot book a meeting. You can give your leads the option to easily reschedule at their convenience, without prolonging the process with tedious back-and-forth e-mails.  
Maximise the ROI of your HubSpot investment 
HubSpot is a robust platform with many features. With four 'Hubs' that cover marketing, sales, services and operation functions, there is so much you can do with it. Even just considering the 30+ features of HubSpot CRM and Sales can be overwhelming. 
Be sure to follow our top HubSpot CRM tips and tricks to get the most out of your HubSpot platform. If you're still struggling to see a noticeable return on your HubSpot investment, perhaps it's time to consider conducting a HubSpot portal audit.