DESIGNA
Consolidation of marketing activities in one consultancy drastically increases Kitchen manufacturer's brand and sales performance.
Digital strategy boosts performance 
On the journey towards increasingly giving the DESIGNA brand a timeless and competitive boost strategically as well as communicatively, DESIGNA has chosen Novicell to handle all digital efforts - from strategic sparring, content, digital channels, and social media as well as data management. 
For more than 27 years, DESIGNA has produced quality furniture for the kitchen, bathroom, and bedroom. In the last 5-6 years, the kitchen chain has undergone an expansive development and today, is one of the largest players on the Nordic market with more than 50 dealers. 
By consolidating at Novicell we achieve a significantly greater impact of our activities. We use our digital resources better - right now we may have one specific need, but next month we will ably need something else. Once we have gathered it all in the same place, it is easier to prioritise efforts, without different agencies having to compete. That allows us to spend our money much more efficiently.
Digital review

Thorough pre-analysis is the fundament for the strategy and priorities

Visual concept

A new direction for the visual identity, tone of voice, colours, fonts, and images

Websites

Development and launch of two new Dynamicweb websites

Social media

Organic and paid advertising on Facebook, Instagram, and Pinterest

Content & SEO (Search Engine Optimization)

Inspiring content universes and stronger SEO landing pages

Google Ads

Ensuring visibility at the top of relevant Google search queries

Google My Business

Increased visibility in SERP (Search Engine Result Pages) on the industry's most relevant search terms

Data Dashboard

Live performance updates and monitoring of initiatives
Consolidation of digital marketing efforts create results
New website with a compelling visual user experience 
With the desire for an easy-to-navigate CMS (Content Management System), where new digital initiatives and updates can be quickly established, DESIGNA has created two new websites in collaboration with Novicell: www.designa.dk and www.designa.no. 
The new sites were the start of a budding new visual universe, which in addition to a new web design and development of colours, fonts, and expressions, is accompanied by new product and mood images. They are bound together in new collection universes and side compositions that invite users into the narratives of how the kitchen dream becomes a reality. 
The two sites are built on Dynamicweb, which offers a wide range of digital options, including PIM (Product Information Management) and e-commerce.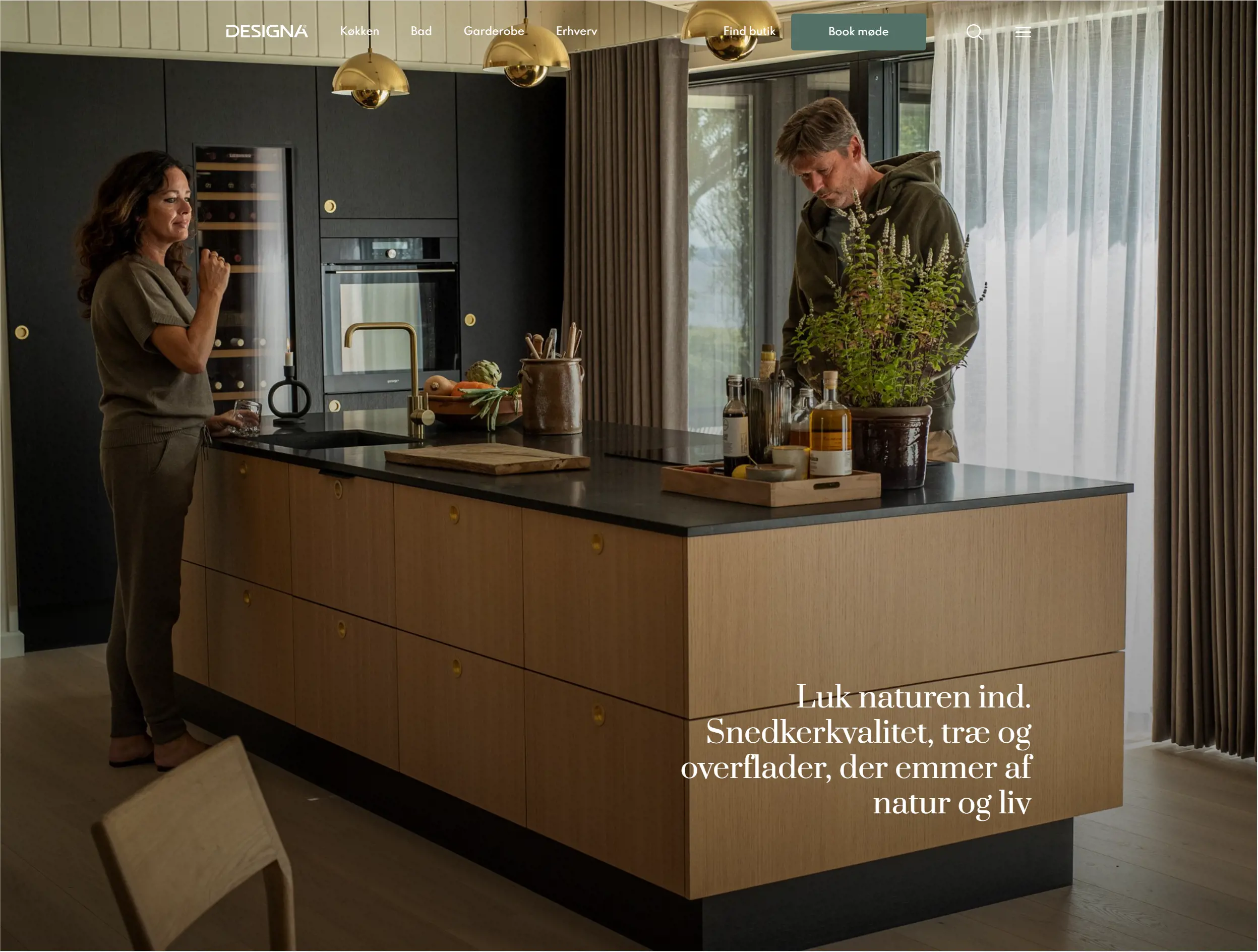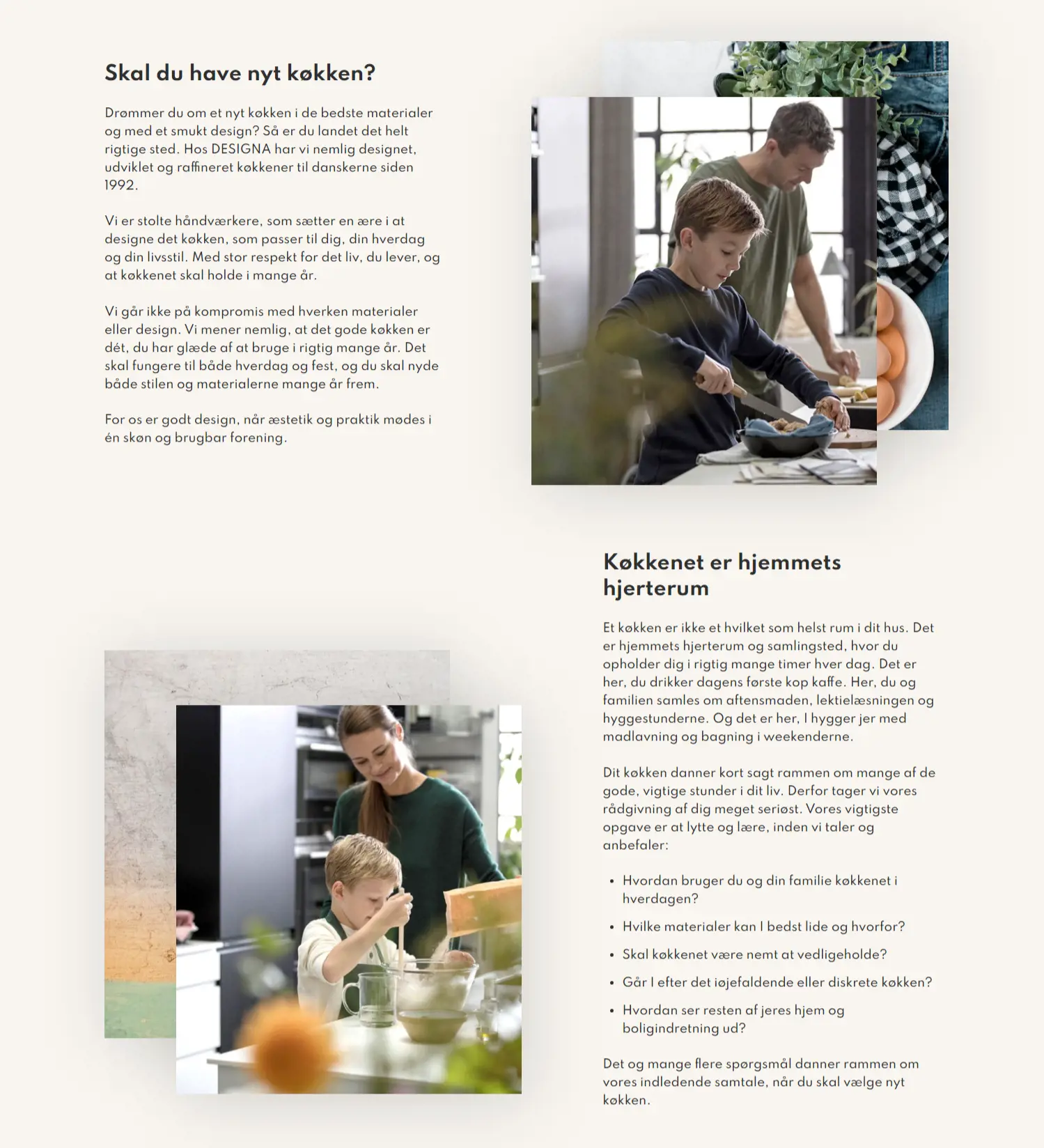 SEO efforts ensure increased visibility
Novicell's content team and SEO specialists are constantly collaborating to improve DESIGNA's rank on Google through initiatives such as:  
Optimising existing important SEO content 
Highlighting new important SEO landing pages 
Implementation of "frequently asked questions" that improve visibility in the SERP 
Dealing with SEO technical challenges 
One of the success criteria for delivering a new website is to maintain (or improve) the site's average position with Google. DESIGNA's new websites and their SEO management have been an enormous success. Positions in Google are held for the entire website, while we've moved from rank 10 to 7 to top-3 on the industry's largest keywords. 
We've also optimized the content of the central landing page for kitchens from being a page with limited text and images to a high-performance landing page with +5,000 words and good interaction between text and images. See the page here. 

The arrow shows the average rank on Google when the new landing page for kitchens was launched.
Online channels account for a significant increase in meeting bookings 
With DESIGNA's business goals, Novicell has set up several important KPIs to ensure that the marketing budget is used in a way that the KPIs are met optimally. 
One of the objectives is to increase the number of meeting bookings via the website and traffic to the DESIGNA stores. We've helped to increase the number of meeting bookings created by online channels year over year by 73% in Denmark and 17% in Norway.
The increased organic focus on social media has contributed: