TikTok Advertising for Beginners - Ready, Set, Go!
What are you waiting for?
Jump in and create cheap exposures, clicks, app downloads and converts. Now, Novicell has access to our TikTok agency account and are already creating multiple accounts for several of our customers.
What is TikTok?
TikTok is an incredibly popular, fast-growing social media platform. Worldwide, TikTok has no less than 500 million active users. So, we are dealing with a platform with huge potential for companies that want to start TikTok advertising to interact with their (young) target audience.
TikTok is a video-based app where users can share short videos. The creativity is high, and users can create videos with filters, graphics, lip-sync and memes, among other things. And the popularity of this platform is not to be underestimated. Just look at these three quick TikTok stats:
5 billion – how many times the TikTok app has been downloaded, making it more popular than YouTube, Facebook, Instagram and Snapchat
66 million – how many times TikTok was downloaded in 2018 alone
52 minutes – how much time the average TikTok user spends daily in the app
Who is using TikTok?
The target group at TikTok consists primarily of 16–24-year olds, who make up 41% of the total users. Over time, that distribution is likely to change as the older segments jump on board. This has also been the case on other social media platforms such as Facebook and Instagram.
The gender distribution at TikTok is relatively even. Out of TikTok's users, men represent 56%, and women represent 44%.
Regardless of gender, engagement in the app is immensely high. The average TikTok user has the app open for 52 minutes every day. This explains why over a billion videos are viewed daily on the platform.
Why advertise on TikTok?
As a company, you should prioritise advertising on TikTok because it's another platform where you can educate, engage and motivate your target audience.
You can increase awareness of your business and products and support your target audience in the customer journey by reducing doubts and barriers before making a purchase.
And you can also hit new, potential customers and connect with existing customers through remarketing.
What campaigns can I do on TikTok?
Advertising on TikTok gives you a lot of new opportunities to reach your target audience. Fortunately, there are also some common denominators that you'll know about if you've previously advertised on Facebook, because the advertising tool is very similar.
Like Facebook, TikTok's ad account allows you to easily target relevant segments, select a specific ad placement, and schedule your TikTok ad's time period and budget on multiple levels.
At TikTok, you can choose from four different campaign types, each of which has its own unique benefits depending on your advertising goals:
In-feed ads
Brand Takeovers
Branded Lenses
Hashtag Challenges
And, most importantly, you can associate your own TikTok Pixel with your website to better target relevant audiences. More about the pixel further ahead.
First, let's take a closer look at the benefits and opportunities of each campaign type.
TikTok In-feed ads
With In-feed ads, your ad is shown in full screen. The user has the opportunity to see your ad at any time, so it's important to create dynamic eye-catching content right from the start that delivers your message briefly and accurately – on the platform's terms, of course.
Format: Video
Location: The 'For You' page that matches your homepage and newsfeed
Campaign goals: Traffic, conversions, app installs
TikTok advertising – In-feed ads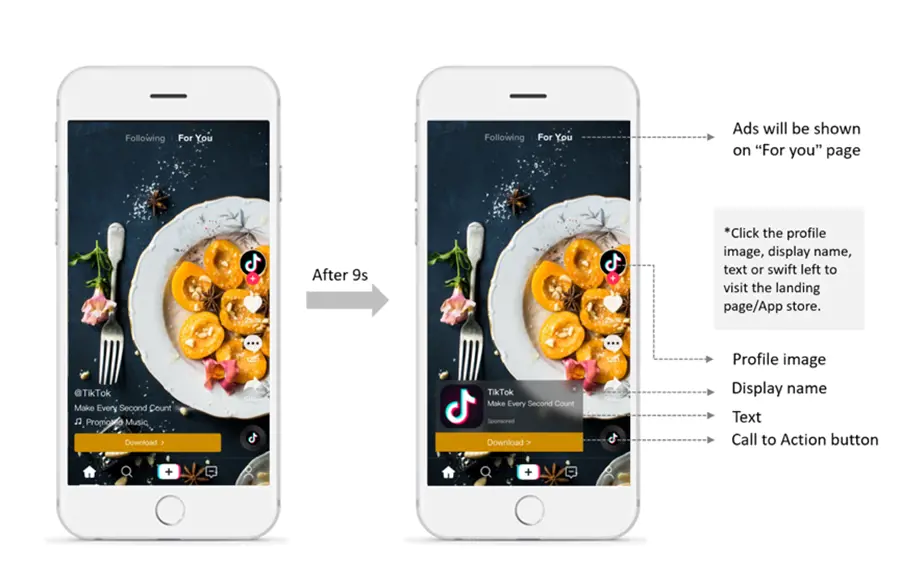 On your TikTok ad, the user can click on your profile picture, display name, or swipe left to visit your landing page. After nine seconds, a Call-To-Action button is also displayed.
TikTok Brand Takeovers
Brand Takeovers on TikTok can be a bit like YouTube Masthead. This TikTok campaign type will make your ad appear as soon as the app opens.
What's unique about the campaign is that there is only one advertiser per category per day who can use this campaign type. A powerful way to ensure broad exposure.
Format: Video, GIF, image
Location: When opening the app
Campaign goals: Traffic, conversions, video playback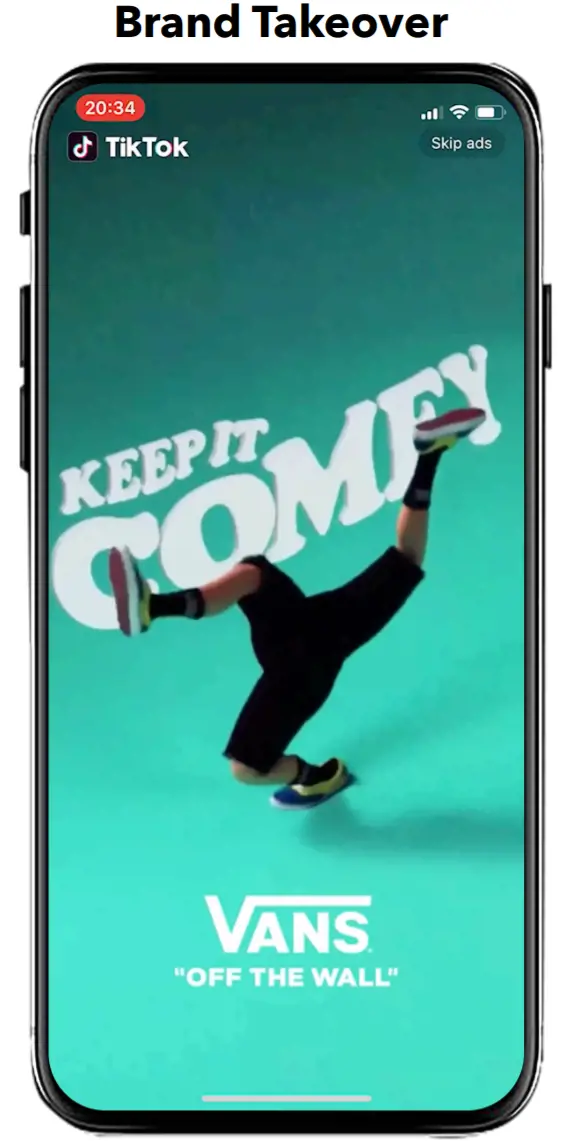 TikTok Branded Lens
Branded Lenses are for the truly creative heads. Here you can – with the help of Augmented Reality, 2D and 3D – create engaging and interactive brand filters that TikTok users can use in their own videos.
The format is similar to sponsored filters in Snapchat. It's a less commercial way of interacting with your target audience, but still visually powerful enough to increase brand awareness and value.
Format: Video animation/graphics
Location: 'Trending' page and video creation
Campaign goals: Knowledge and reach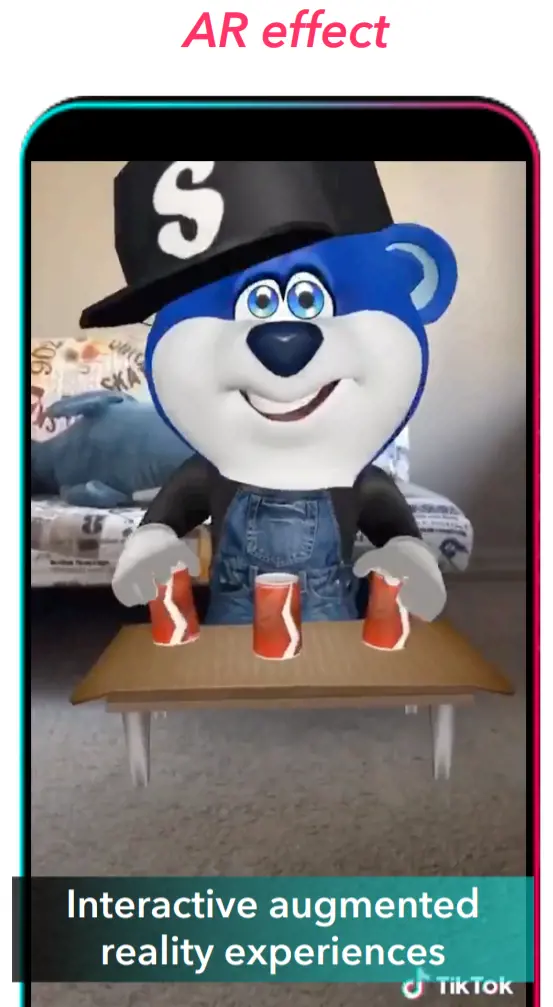 TikTok Hashtag Challenges
As the name suggests, this campaign type is based on a hashtag in your videos. You start by uploading an organic video on your TikTok profile. In the video, you challenge the users of TikTok to create their own video with the same challenge that you showed in yours.
Then, sponsor the video and target it to one or more selected audiences to increase exposure and engagement with the hashtag.
Format: Video
Location: 'Explore' page
Campaign goals: Traffic, conversions, video playback
Get started with TikTok advertising
It only takes a few steps to get started with advertising on TikTok. Simply create a TikTok ad account and you're ready to create your first campaign.
How to create an ad account
Create your ad account here
Start by providing your company's basic information, such as name, country, email and industry.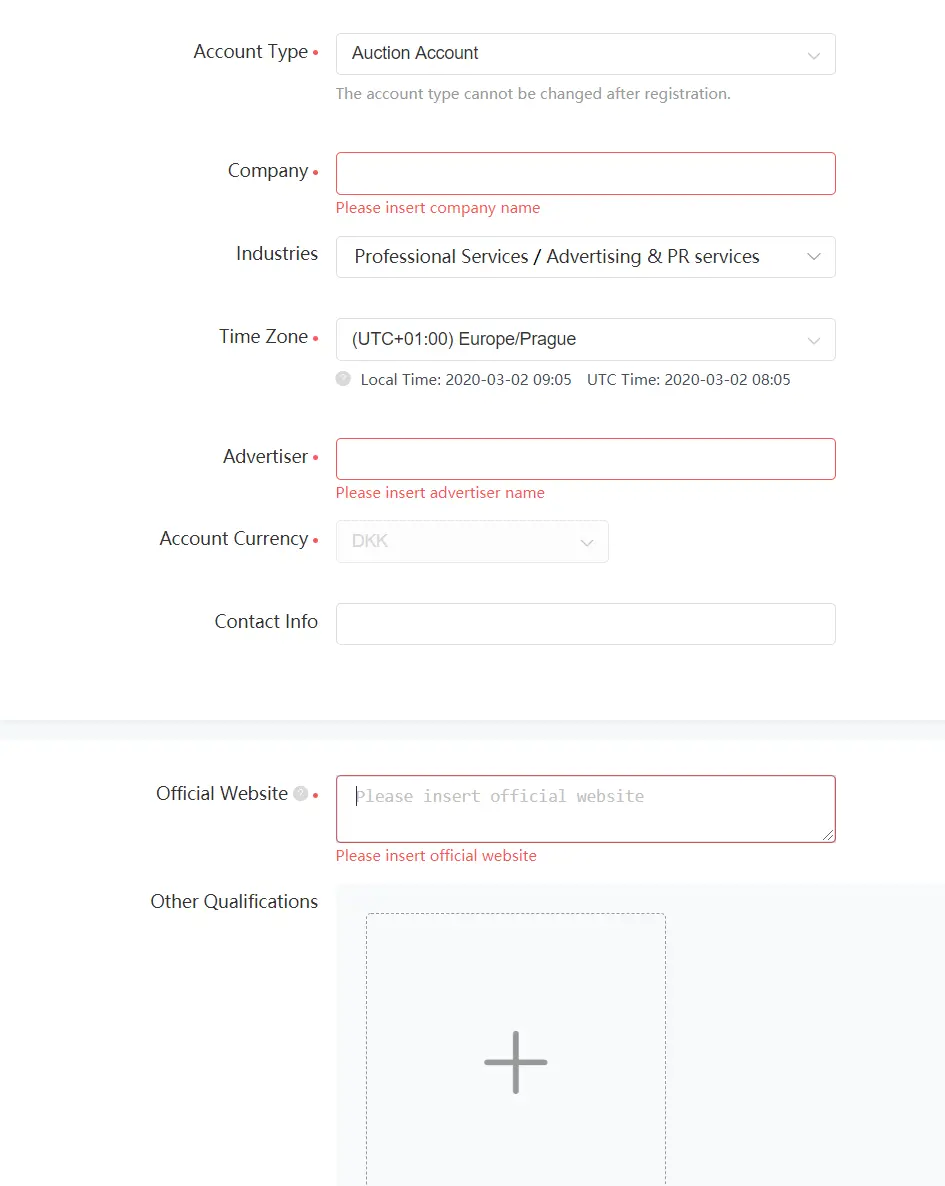 Be sure to choose the right ad type. You cannot change this setting afterwards.
Auction Account – can only deliver auction-based ads
Reservation Account – can only deliver reservation-based ads
For most companies, the Auction Account will be most relevant to join.

You are now signed up and will receive an email from TikTok once you complete the creation.
How to create a TikTok Campaign
TikTok advertising is divided into campaigns, ad sets and ads, as you may know from Facebook's campaign setup.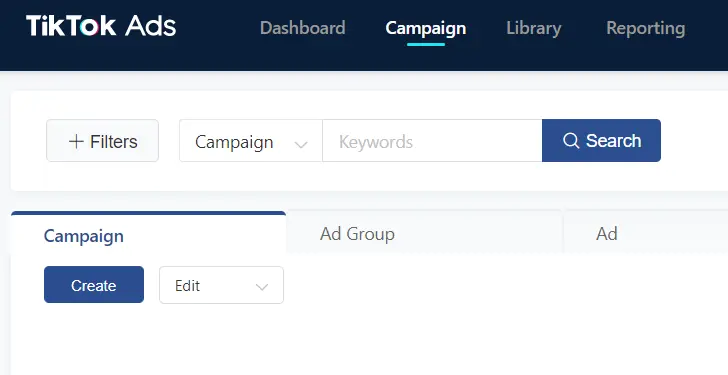 Similarly, TikTok's campaigns are divided into 'Consideration' and 'Conversion'. Here you need to choose the campaign type that suits your purpose.
Under Consideration, you can choose between Traffic and App Install
Under Conversion, the option is Conversions
Here you can see how to create a Consideration campaign and get an idea of what targeting options this ad type provides.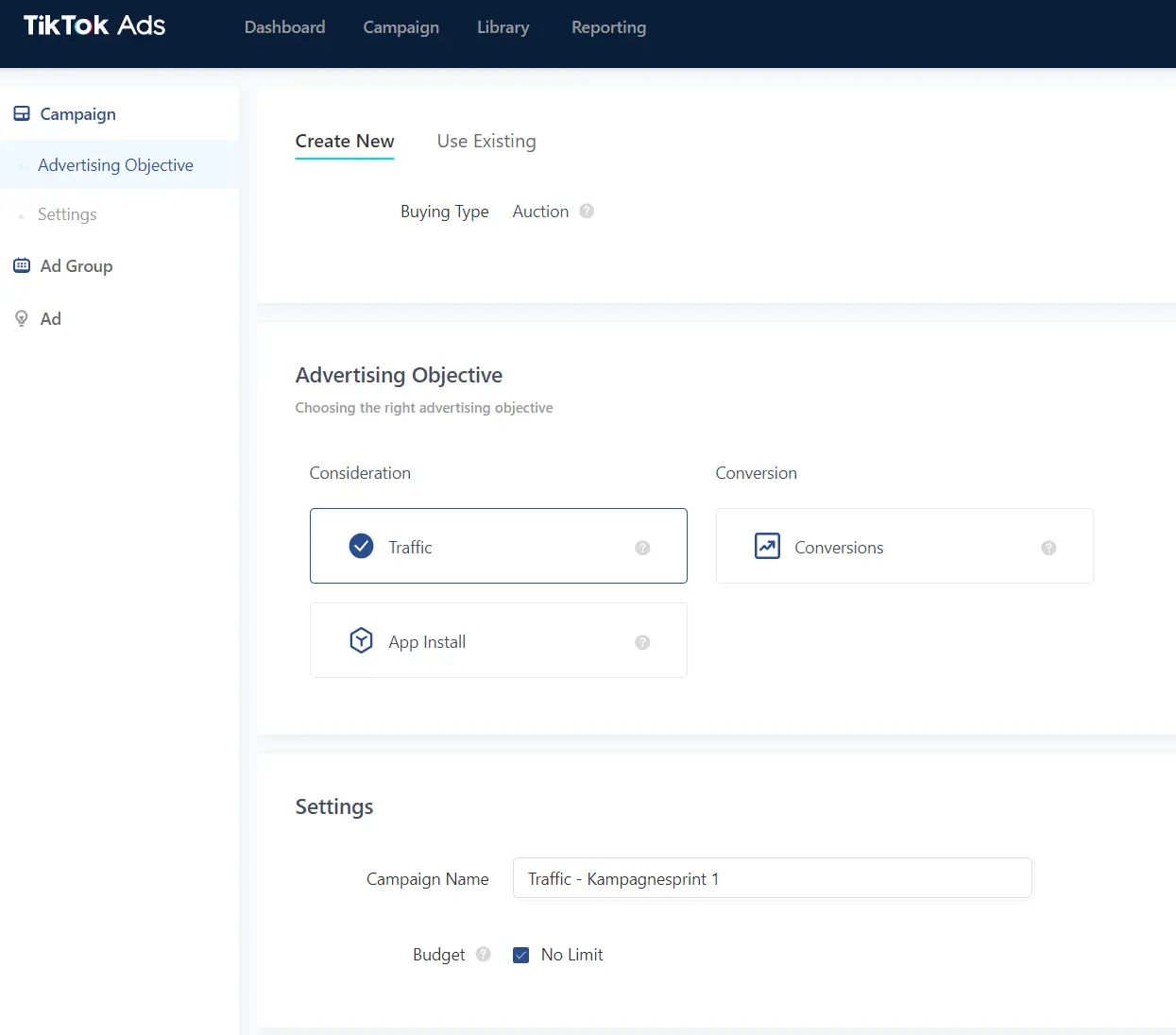 Ad sets
Once you've created your campaign, you'll need to create your ad set. This is where you specify placements, budget, demographics, interests, period of time, etc.
There are two ways to place your ad:
TikTok automatically selects locations
You manually sort and model on the possible locations
As a starting point, let TikTok automatically place your ads.

TikTok target groups
There are a lot of opportunities to target your advertising. For example, you can segment on parameters such as:
Custom audiences
Look-a-like audiences
Age
Gender
Location
Language
Interest
Device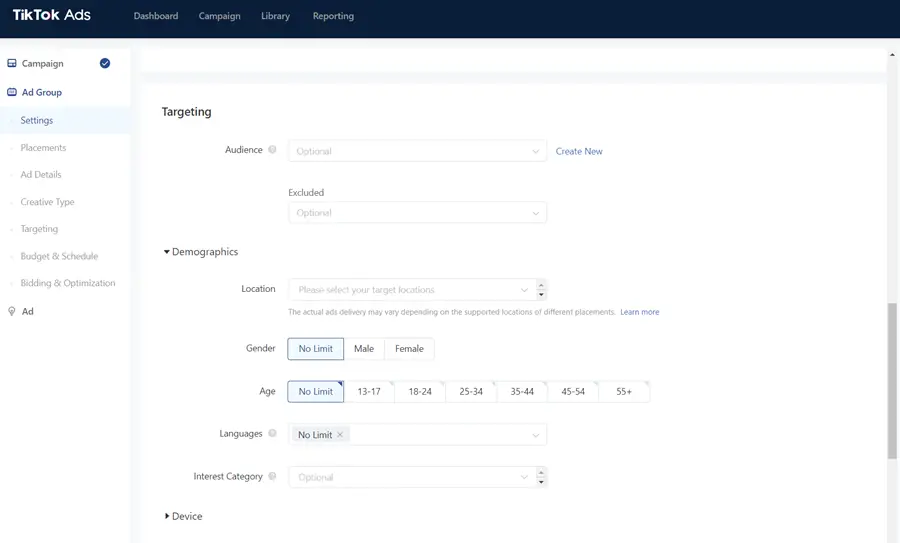 TikTok bid strategy, optimisation and budget
When advertising on TikTok, you can choose between two different types of budgets: a lifetime budget and a daily budget.
Besides deciding your budget, you also need to define whether your TikTok ad will run for 24 hours or only at a specific time.
There will be different costs depending on the campaign's intention – click or conversion? The different types of costs are CPM (Cost Per Mille), CPC (Cost Per Click) and oCPC (optimisation Cost Per Click).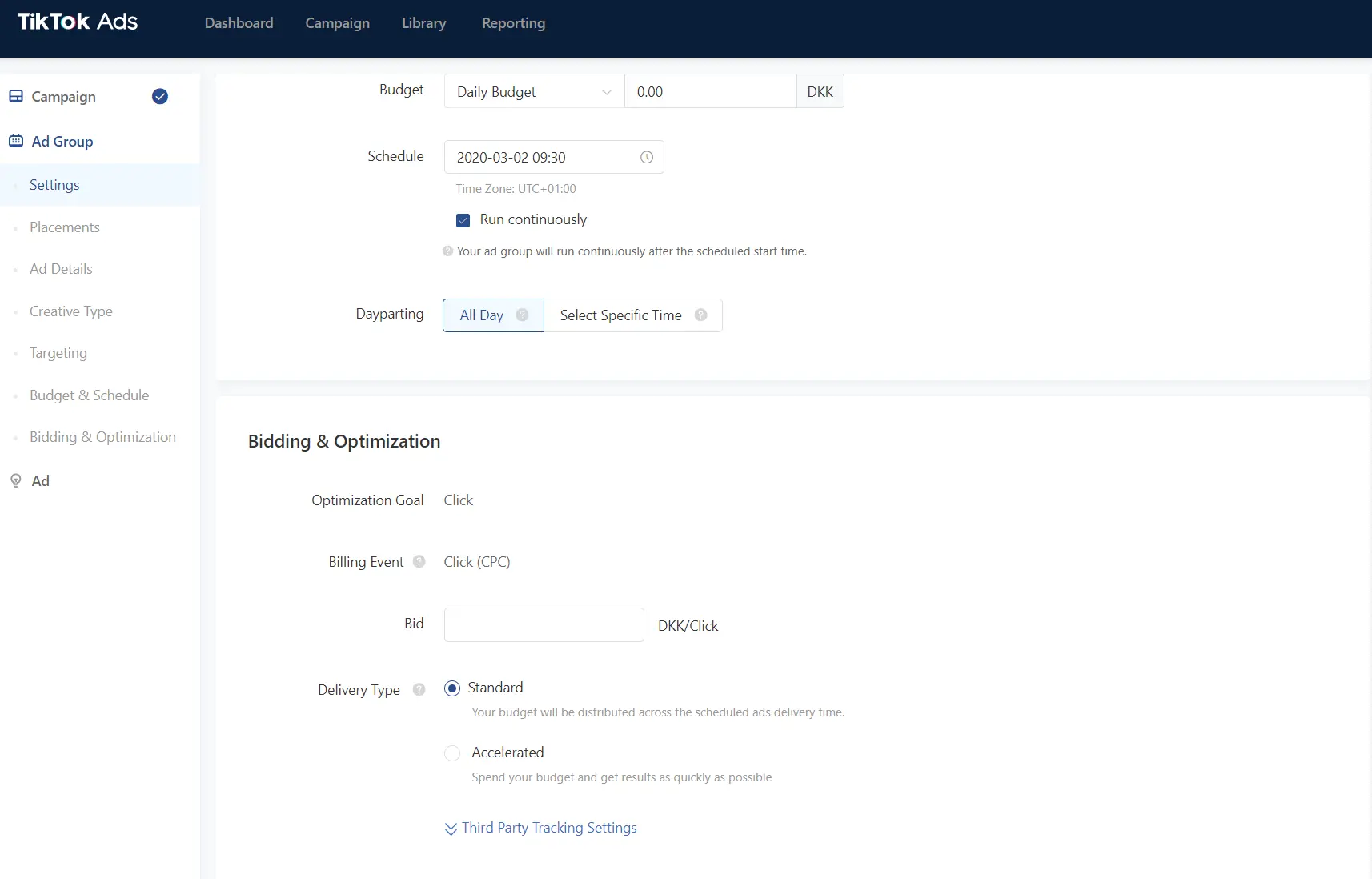 Consider what kind of delivery method you would like to use – standard or accelerate? Standard spreads the budget over the campaign period and accelerate uses the budget as fast as possible.
Create your TikTok ad
The last thing that you need to do is to create your ad. As pointed out earlier, the ad format is dependent of what campaign type you choose and where you would like to send the user.
As you can see in the picture below, you have the opportunity to choose between Single Video or Single Image. The location of the ad is dependent on the ad type.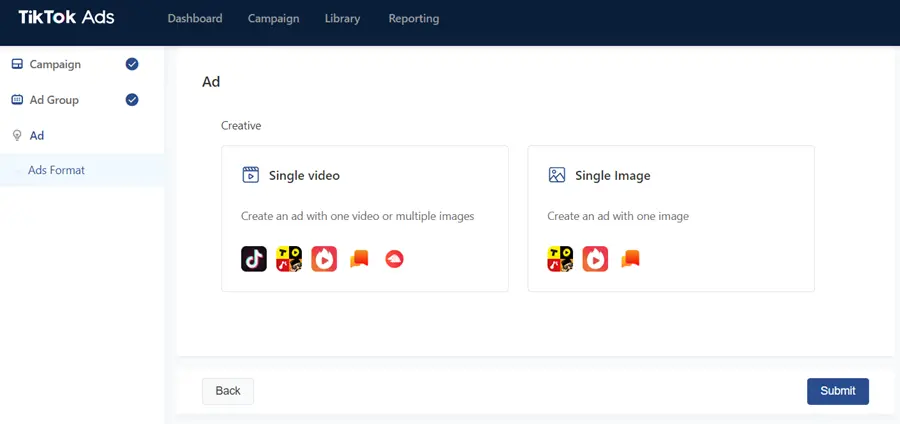 The important thing about the creation of the ad is that you use the advised formats and make sure the ad is eye-catching and valuable. It needs to be relevant for the target group that you defined in your ad set.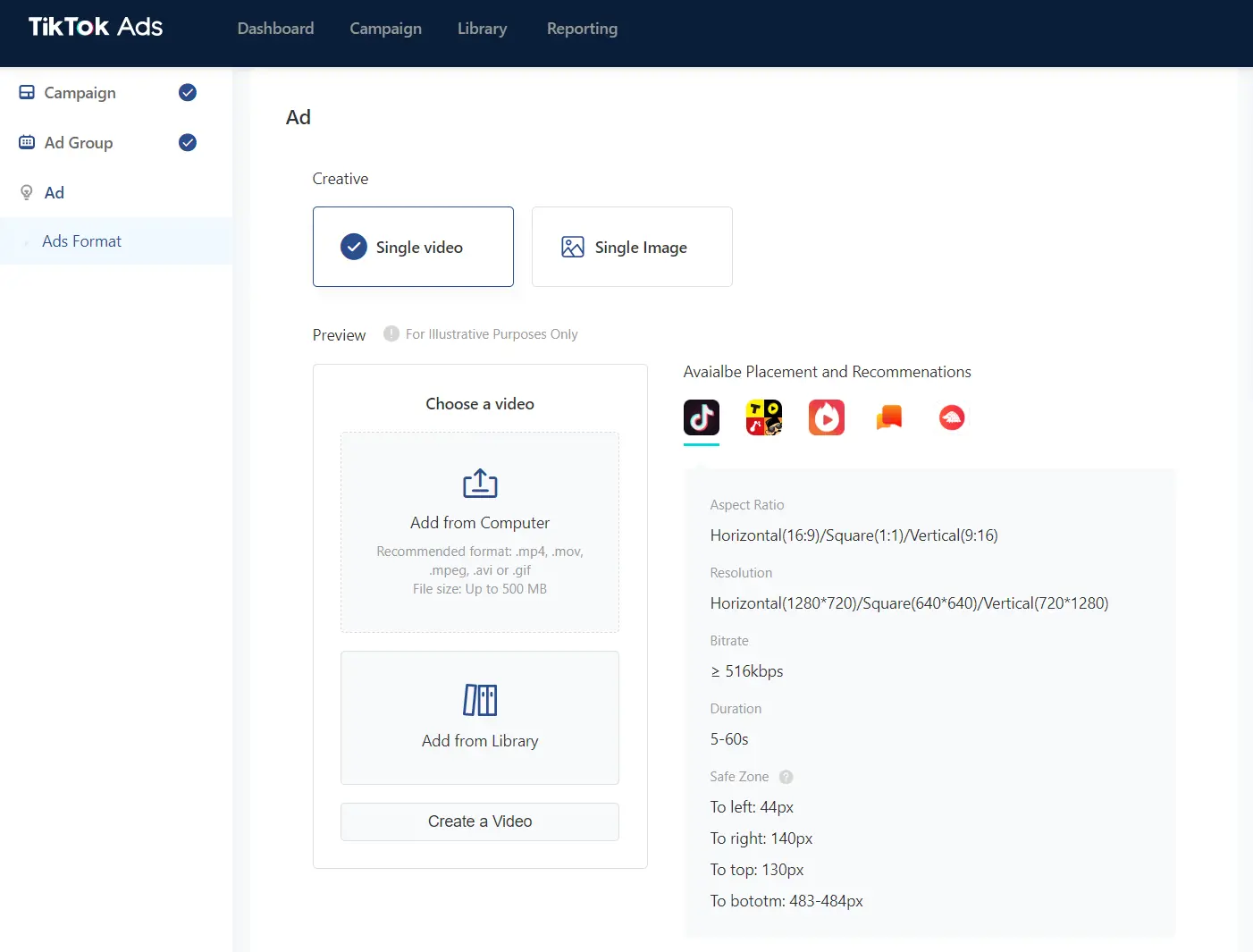 You can upload your TikTok video or picture directly from your computer or TikTok library.
You can also choose Single Video, press 'Create Video' to access different video templates, and then use 'Smart Video'. 'Smart Video' is a video editor that automatically analyses your content and suggests different editions of your video.
In short, the creation of the TikTok campaign is relatively easy. There are a lot of different opinions on which formats, ad content and call-to-actions are most effective. Only time will tell.
Our recommendation is to invest a portion of your ad spend on the medium and track what works best for you.
Setting up TikTok Pixel
It cannot be emphasised enough how important your pixel on TikTok is. It is a short and simple process to install, and once it's done you can measure conversions and returns from your ads.
In your ad account, find the menu item 'Library', and press 'Event'. Here you can configure your TikTok Pixel.
Paste the pixel easily via the Google Tag Manager, the Custom HTML Tag, or directly into the code of your website.
Make sure to set up event tracking at the important measurement points, such as 'add to cart', 'go to payment' and 'purchase'. For more information, read this article from TikTok: Track Website Conversion with TikTok Pixel.
TikTok Pixel Helper
To ensure proper setup of your TikTok Pixel and events, you should set aside 10 minutes to install the TikTok Pixel Helper and test your website to ensure correct data collection. TikTok's Pixel Helper is a plugin for Google Chrome that you can install directly in your browser.
Install TikTok's Pixel Helper here.
What does TikTok advertising cost?
The price of TikTok advertising isn't fixed, so you can't say the exact price. You can decide the budget for every campaign, and you can choose between the following different types of budget:
Lifetime budget
Daily budget
Lifetime budget
Lifetime budget means that you specify a lifetime for your TikTok campaign and indicate that a maximum amount of money can be used for your chosen time period. This means that your spend can depend on the day-to-day, and TikTok will allocate the budget for you.
Daily budget
Daily budget is a bit more fixed. Here you specify a fixed budget per day. You are not required to set an end date for your TikTok campaign but may leave it active until you choose to pause it. You can specify the budget types at two levels: campaign level or at the ad set level. So you set the framework for what TikTok advertising costs. The price is entirely up to you.
TikTok Analytics
To find out what you should spend on your campaigns, it is natural to measure your return on investment. You can do that in TikTok's advertising account.
Under the 'Report' tab, you can access all relevant dimensions and metrics that matter to your campaign.
You can create different reports and easily modulate measurement points. The picture below is a standard report that measures the most basic things.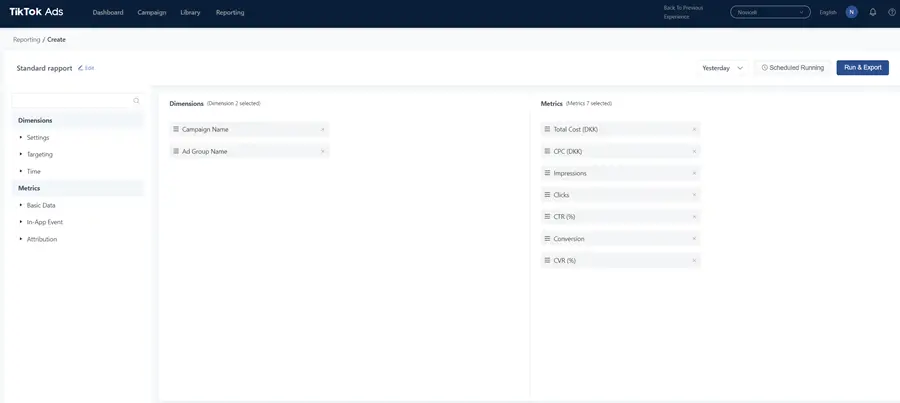 Be sure to keep the reports simple and clear for your own sake – you can go quite deep. 
The report is divided into two parts: Dimensions and Metrics. 
In Dimensions, the options are: settings, targeting and time. For example, you can specify which campaigns and ad set you want to see while selecting the types of targeting that you want data for. 
Metrics consists of basic data, in-app events and attribution. This is where you specify the exact measurement points to display in the report. It can, for example, be price per click, total reach, cost per conversion and number of conversions. 
Be sure to nuance and validate data in Google Analytics. The ad platforms' own tools tend to credit themselves for conversions where Google Analytics usually draws a different picture. 
Use UTM (Urchin Tracking Module) tracking in your ads if your intention is to visit your website. That way, you can more easily track your TikTok campaign performance in Google Analytics.