Umbraco 8 New Features Review
The latest Umbraco 8 features focus on making the user experience easier for content editors. In addition to three key new features, the upgrade also comes with a new look and a redesigned code base that improves performance and ensures stability.

The three new features in Umbraco 8 are: 
Content Apps
Infinite Editing
Language Variants
Content Apps – create better content in a shorter time with Umbraco 8
With Content Apps, you get help evaluating, measuring, and improving content through the use of checklists, insights and tips. It can be used to evaluate data from visitors to websites so that you can offer better content to them in the future.
In addition, Content Apps can be used to give content editors access to data in the back office of Umbraco. Here you can find information about traffic numbers, blog post popularity, number of downloads on content, whether you use the right keywords, and whether the content is user-friendly. Among other things, you can get performance data from Google Analytics to quickly see if your changes on a given page have an effect.
Content Apps is not a direct part of the editing experience. It should instead be seen as a companion to the set up that already exists. With this feature, you no longer need to log in to various external platforms to gain insight into how your content can be improved.

Infinite Editing – smooth workflows in Umbraco 8
Infinite Editing is a new editing feature for Umbraco 8. This built-in customisable feature allows you to create smooth workflows that support natural and frictionless editing flows of content editors, customers, and developers.
This means that even if your content and your document types are in different sections of the Umbraco back office, you can make changes directly to the content you edit.
For example, let's say you are editing a news item and you realise you are missing a publish date property. In the previous versions, you would have to save what you are doing, leave the content section, go to the developer section, edit the news item document type, and add this property.

So, your stream of editing is interrupted – and who doesn't hate interruptions? With Infinite Editing, if you have the appropriate permissions, you can open the document type from the content item itself, add the property, save, and close, and get back to where you left off editing. As simple as that.
Language Variants – easy management of multilingual content within Umbraco 8
Say goodbye to syncing, hacks and various solutions for multilingual websites! Now it is much easier to manage multilingual content, as you can have multiple variations of the same content all gathered in one project.
Language Variants is built-in support for multilingual content in Umbraco and makes it possible for all your content to exist in multiple variations at the same time.
What is the significance of Language Variants?
You can change the language in preview mode. Here you can see what your site looks like in one  language compared to another.
You can edit two different pieces of content at the same time. Translate your page from one language to another directly in the back office with side-by-side mode.
The content of the required languages must be in place before you can publish a page.
You can choose to have some content published only on certain pages. This can be useful, for example, when launching a product in one country while keeping it hidden from other countries where the product is not yet available.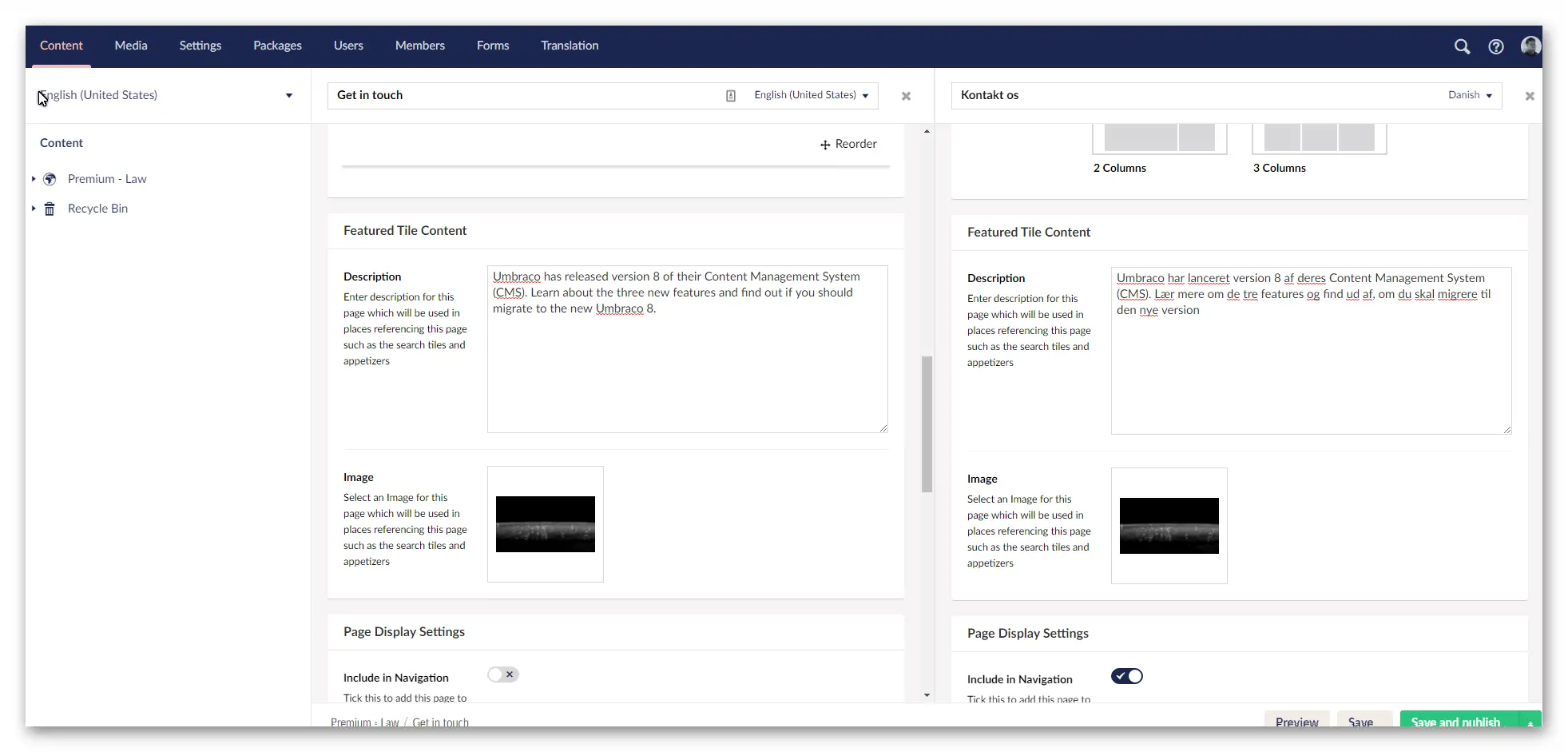 Codebase clean up – faster and more straightforward workflow
One of the major updates to Umbraco 8 is the clean-up of the database. This makes the Umbraco code baseless complicated and easier to expand, which also makes it much easier for developers to follow "best practices" and to install and uninstall packages.
This more straightforward workflow removes the need to create solutions and reduces the amount of time developers need to spend on developing a fully functioning solution.


Is it worth migrating to the latest version?
There are multiple benefits to migrating Umbraco 7 to Umbraco 8, especially in regards to editing features for multilingual websites. There are also improvements in site speed and shelf life.
Due to code base updates, there is no direct upgrade path from Umbraco 7 to Umbraco 8. Instead of an update, the content must be moved through a migration from your current installation of Umbraco 7 to a new installation of Umbraco 8. It is no more complicated, it is just another process where it must be manually ensured that all functionalities come over to the new platform.
While Umbraco 7 will continue to be patched for bug fixes and security reasons until 30 September 2023, no new features will be developed for Umbraco 7.
On the other hand, if you are using many extensions and plugins that are critical to the functionality of your site and they have not yet been imported to v8, then you should hold off migrating for now.
However, if you are running an older version than Umbraco 7, then it is not a question of whether you should migrate, but simply of when and how.
Are you in doubt about whether to migrate your current Umbraco 7 solution?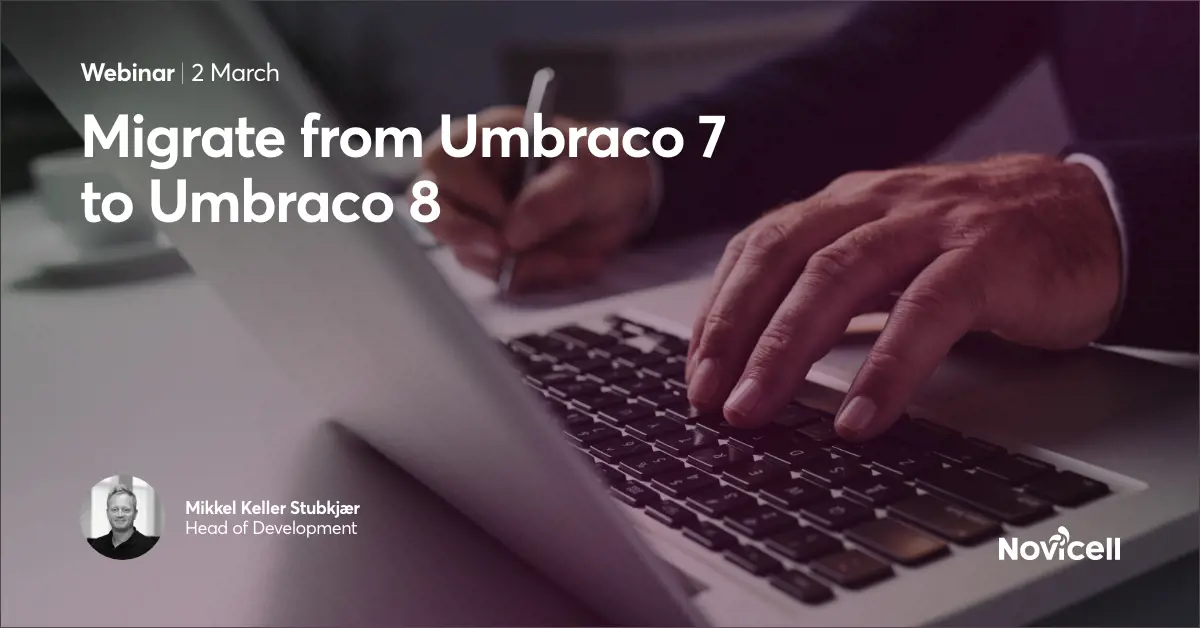 We are doing a webinar for those of you who need help figuring out whether migrating to Umbraco 8 is the right choice for your business now. At the webinar, our Head of Development will present the exciting features of Umbraco 8 and advise you on how to best prepare yourself and meet any challenges in the migration process.