Sometimes seen as alternatives, organic search and paid search tactics are best used in combination to elevate your online presence and drive results. 
What is SEO?
SEO, or Search Engine Optimisation, is the art of refining a website's content and structure to rank organically on search engine results pages, such as Google and Bing. It's a long-term strategy that aims to increase the quality and quantity of organic traffic to your website. SEO techniques encompass content creation, technical optimisation, link building, and keyword optimisation, all essential elements in internet marketing strategies. 
Benefits and Challenges of SEO: The advantages of SEO are substantial. It offers the promise of long-term traffic sustainability and fosters trust and credibility among your audience. However, it's not without its challenges, such as the time and consistent effort it demands. Yet, the payoff in terms of search engine visibility can be highly rewarding. 
What is PPC?
PPC, which stands for Pay-Per-Click, is a digital marketing strategy where advertisers pay based on the number of clicks their ads receive. Unlike SEO, PPC delivers more immediate results and provides control through budgeting and precise targeting, making it a crucial part of internet marketing strategies. 
Benefits and Challenges of PPC: PPC's precision in targeting is a significant benefit, ensuring that your ads reach the right audience as they search. Nevertheless, PPC comes with ongoing costs and requires expertise to run and maintain successful campaigns. 
How SEO and PPC Work Together
SEO vs PPC, it's not a competition, but a collaboration. When the two are well-planned and strategy is aligned, they can work in harmony to maximise the success of your digital marketing strategies.  
PPC can be used to support or plug gaps in your organic strategy by directing immediate, high intent traffic to your website while a comprehensive SEO approach can reduce costs by driving organic traffic to well-optimised pages. Together, they provide a more robust online presence, maximising your opportunities to be seen and attract quality traffic. By integrating these digital marketing strategies effectively, you can unlock the full potential of your online marketing efforts and achieve exceptional results. 
Organic search vs paid search listings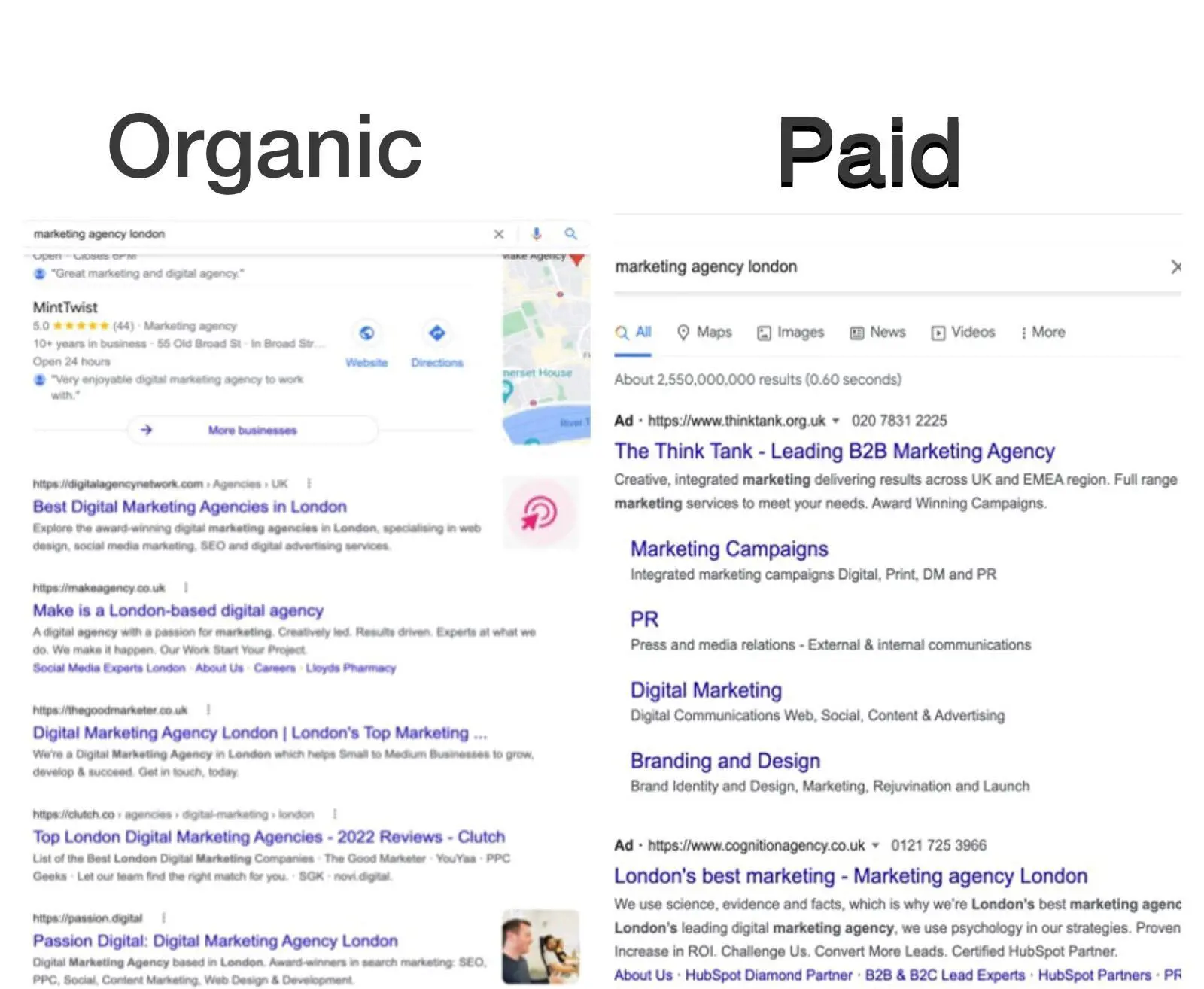 About Novicell
Novicell is a progressive digital agency with over 20 years of experience. We're dedicated to forming lasting partnerships with our clients, and our mission is to enhance the digital customer experience through innovative solutions. We offer a range of services, including SEO, PPC, and online advertising, to help you achieve your digital goals. Partner with us to navigate the evolving digital landscape and succeed online. 
Contact us or arrange a call to speak with one of our dedicated consultants who will be more than happy to help you. 
Contact the team to find out more today
Send us an email with your thoughts or questions.