Drupal
Novicell is a leading Drupal development agency. We have launched numerous Drupal solutions and have won multiple Drupal Splash Awards for the best client solutions
Why choose Novicell?
A successful digital presence requires a world-class CMS platform or webshop. A platform that is user-friendly, scalable, and future-proof. Such a CMS platform is Drupal.
We have launched more than 30 major, complex Drupal solutions and have a large team of developers who are deeply specialized in the Drupal platform. We have over 20 years of experience with PHP, which is the technology behind Drupal.
We have delivered websites, complex integrations, e-commerce solutions, self-service solutions, intranet solutions, multisite solutions, international solutions with language versions, and many other solutions based on Drupal.
We have won several Drupal Splash Awards for our state-of-the-art Drupal customer solutions.
No licensing costs

Open source. There are no ongoing licenses. A large global community contributes to the constant development of Drupal.

Flexibility

Drupal is a highly flexible CMS that allows you to customize your website according to your specific needs and desires. It has a modular architecture, which means you can add and remove functionality as required.

Scalability

Drupal is a scalable CMS that can handle both small and large websites with many users and complex functionality. It is also possible to integrate Drupal with other systems and technologies.

Security

Drupal is known for its high security and is often used for websites with sensitive data. Drupal offers a range of security features and modules that can protect your website from hackers and unwanted access.

Multisite functionality

With Drupal, it is possible to create and manage multiple websites from the same installation. This is a significant advantage if you need to create and manage multiple websites simultaneously.

SEO

Drupal is known for being SEO-friendly, and it has a range of built-in features that can help you optimize your website for search engines. This can increase visibility and traffic to your website.
Drupal Splash Awards
The Drupal Splash Awards is an annual international award ceremony that honors the best Drupal projects and solutions worldwide.
Selected companies we have helped with Drupal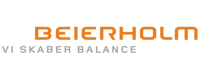 We have a truly great collaboration with highly skilled and dedicated individuals at Novicell. They have a strong understanding of our business and are able to translate that into online solutions. It gives us a competitive advantage in the market.
Triple certified in Drupal 9

Several of our developers have achieved Triple Certification in Drupal 9, making them the first developers in Denmark to receive this recognition.

Completed certifications

Drupal developer, Frontend specialist, Backend specialist