Albumedix®
Albumedix is a biotechnology company focused on enabling the creation of superior biopharmaceuticals for people with serious diseases. They are recognised as the world leader in the manufacture of recombinant human albumin products, which are used in clinical and marketed drugs by pharmaceutical companies worldwide.
Increasing online visibility
Albumedix approached us with a need to increase their online visibility and website traffic on key pages using Search Engine Optimisation (SEO) and Conversion Rate Optimisation (CRO). Beyond this, they sought to gain a better understanding of their users in order to drive more conversions and future proof their website.
The collaboration
What we did
Seamless interactions
  Albumedix wanted a webpage to reflect their status as the world's leading manufacturer of recombinant human albumin products. To do so, we focused on creating an albumin page that was highly interactive and attractive to site visitors. A redesign of key pages was also conducted to optimise user experience.  
One of the additions included interactive elements; hovering over the circles with a cursor displays various technical specifications of albumin.  
Before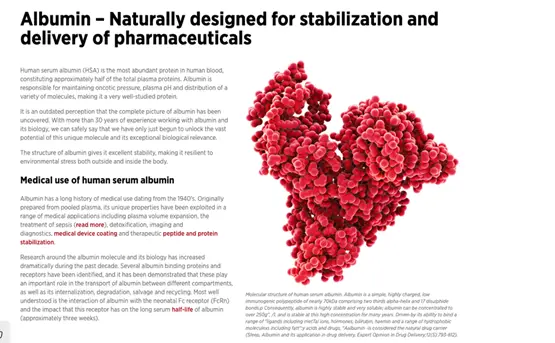 After
"We are very pleased with the collaboration with Novicell. They were able to meet and exceed our expectations in terms of redesign, SEO and conversions. They were also a great team to work with, and the improvements made have already started showing amazing results. We are especially satisfied with the over 50% increase in conversions."